Basic Attention Token (BAT) Price Prediction For 2022: Uptrend Intact Despite Extreme 2021 Crypto Volatility
BAT/USD – Forecast Summary
BAT Forecast: H1 2022
Price: $1.50 – $2.00
Price drivers:

Technical support holding, Upward channel intact, Fed tapering, Global inflation

BAT Forecast: 1 Year
Price: $1.50 – $1.60
Price drivers:

COVID-19 recovery, global economic recovery, crypto market sentiment

BAT Forecast: 3 Years
Price: $2 – $3
Price drivers:

Global Politics, Crypto market sentiment, Brave Browser adoption
Basic Attention Token (BAT) opened this year at $0.20, and reached an all-time high of $1.6972 last April – an amazing 700+% gain. This was short-lived however, as BAT/USD fell hard during the cryptocurrency flash crash of May, when it tumbled to $0.49, which was a 70% loss from all-time high levels, after just one month. At one point, it fell by almost 60% within a span of 24 hours. This kind of volatility is quite frightening, even if you are a seasoned trader.
Since then, BAT has stepped upwards steadily and recovered from all the losses of that crash. It eventually reached another milestone by briefly climbing to a new high of $2.02, before investors and traders took profits off the table and the price corrected. It is currently trading at $1.17, as it seems to be in a healthy consolidation, despite the recent extreme volatility that major cryptocurrencies and altcoins have experienced in the past month. 
These are the 30-day losses of major coins as of mid-December: Bitcoin (BTC) down 21%, Ethereum (ETH) down 9%, Binance (BNB) down 12%, Solana (SOL) down 21%, Cardano (ADA) down 34%, Ripple (XRP) down 28%, Polkadot (DOT) down 37%, Shiba Inu (SHIB) down 33% and Dogecoin (DOGE) down 26%. It has been a tumultuous month for cryptocurrencies. Basic Attention Token (BAT), however, proved to be an outlier, as it actually gained 10% in the same period.
Recent Changes in the BAT/USD Price
| | | | |
| --- | --- | --- | --- |
| Period | Price | Change ($) | Change % |
| 1 Month | 1.06365 | 0.10827 | 10% |
| 3 Months | 0.75003 | 0.42189 | 56% |
| 6 Months | 0.59563 | 0.57629 | 97% |
| 1 Year | 0.23336 | 0.93856 | 402% |
Basic Attention Token was launched on the Ethereum blockchain by two very prominent figures, Brian Bondy and Brendan Eich, in 2017.  Brendan Eich is the co-founder of Mozilla, Firefox and JavaScript, while Brian Bondy is a senior software engineer at Mozilla and a software development head at the Khan Academy. 
What makes Basic Attention Token different is the inherent use case of its token, BAT. BAT is used as a payment method for the web browser, Brave. We cannot talk about Basic Attention Token without talking about the Brave browser. The two are intertwined as an ecosystem with the objective of providing a privacy-first and blockchain-based solution to traditional internet advertising. They offer an innovative and ethical advertising solution to users, advertisers, publishers. These three are the pillars upon which BAT and Brave are built. This is also the reason why they chose the triangle shape as their logo, as it represents the three pillars. 
Basic Attention Token is currently the 71st-largest cryptocurrency, with a market cap of $1.76 Billion. It has a circulating supply of 1,492,976,103 BAT coins and a max. supply of 1,500,000,000 BAT coins.
Crypto Price Prediction for the Next 3 Years
Increased Adoption of Brave Browser 
BAT is not your usual crypto token that has a use-case, like fiat money. Its utility is quite complex actually, as it involves explaining the entire internet advertising process. This begins with the innovative Brave browser.
Firstly, the Brave browser is a privacy-first browser that has built-in adblockers, unlike the normal Google Chrome, Mozilla Firefox and Microsoft Edge. This adblocking makes the browser lightning fast, compared to the aforementioned, which needs to receive packets of data just to load a page. 
Secondly, it has blockchain capabilities that are connected with advertising. It allows publishers and content creators to earn revenue from advertisers who wish to post ads in the Brave browser, while the users have full autonomy as to how many ads they receive while using the browser. 
New Digital Advertising Model
This process is their proposed solution to the traditional internet advertising model, which focuses on collecting and tracking user data and confidential information, and selling it to advertisers for profit. This is evidently the business model of the two biggest internet corporations, Google and Facebook. BAT, on the other hand, looks at user-focused advertising as a better solution to digital advertising and gives the users more tailored ads, based on their preferences, without divulging or tracking sensitive user information. 
This new solution to digital advertising could be used in the next three years, as a response to the abuse big data corporations have been subjecting their users to. As more and more advertisers, users and content creators begin to understand how this works, the higher the adoption will be for BAT and the Brave browser.
An Outlier to the General Cryptocurrency Market Sentiment 
Due to BAT having an entirely different use-case, compared to most cryptocurrencies, its price movement also behaves differently. As seen for the past month, even as most cryptocurrencies plunged, BAT has become an outlier. It was able to outlast the crashes, and it managed to rebound relatively well, compared to its counterparts. 
I believe this is due to its inherent utility. Its use-case is far superior to merely being a meme coin or an alternative coin to fiat. Its price held up well during the overall market volatility, because of the BAT and Brave ecosystem it has created. As more users come to understand how the Brave browser presents a better digital advertising solution, the more adoption happens. The more popular it becomes, the more advertisers and content creators will follow. As of August 2021, Brave already had 36 Million active monthly users, which was double that of the previous year. 
BAT/USD Technical Analysis – Uptrend Channel From 2020 Still Intact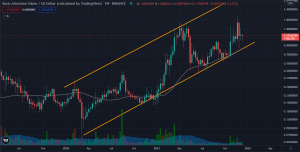 BAT/USD Weekly Timeframe – Uptrend Channel 
Based on the weekly timeframe, we can see that BAT/USD is still inside its uptrend channel, which formed at the beginning of 2020. The long-term price action shows an upward staircase pattern, where new lows are higher than previous lows. This is a sign of possible institutional accumulation for the token. As long as BAT does not fall below the uptrend channel support (currently at $0.70-0.80), it should continue its ascent to new highs.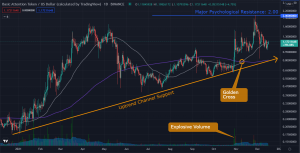 BAT/USD Daily Timeframe: Recovers Slowly and heading towards a Healthy Consolidation
Looking further into the daily timeframe, we see various reasons to rationally deduce that BAT/USD may be turning bullish coming from the crash earlier this year. 
Bullish Golden Cross.

We can see that a bullish Golden Cross has formed just recently, where the short-term 50-day moving average (gray line) crossed over the longer-term 200-day moving average (purple line).

Trading Above the 200-Day MA.

Moreover, after a breakout rally above the 200-day moving average in November, it has never fallen back below this dynamic moving average, which indicates a possible change in the overall investing sentiment, from bearish to bullish.

Explosive Breakout Volume

.

This is further accentuated by the tremendous trading volume during the breakout above the 200-day MA. This is a signal of strong buying demand and of a healthy breakout, which is evident, as BAT/USD never fell back to the breakout level of $0.80, even though the markets have been extremely volatile in recent weeks. 

Full Recovery of May's Crypto Crash.

BAT/USD lost 56% of its value in one day during the cryptocurrency crash in May, where we saw the entire cryptocurrency market in a sea of red. Fast forward to today, it has fully recovered and it even reached new highs in late November, before correcting again. 
Despite all of these bullish rationales, my bias for BAT/USD is that it will still need to consolidate further and create a proper base just below the major psychological resistance level of $2.00. Technically, it would be a very viable momentum trade, if it could break the $2.00 resistance and stay above this level. Until then, it would be best to be patient and wait until things clear up a bit.