EOS Price Prediction for 2021: Upward Trendline to Support EOS at $2.77 – Can It Bounce-off?
Last Update: August 3rd, 2021
EOS/USD – Forecast Summary
EOS/USD Forecast: H2 2021


Price: $2.77  – $4.5
Price drivers: Bullish Cryptocurrency Market, Symmetrical Triangle Breakout

EOS/USD Forecast: 1 Year


Price: $4.5 – $6
Price drivers: Increased Adoption and Utility, Bullish Cryptocurrency Market, Ascending Triangle Breakout

EOS/USD Forecast: 3 Years


Price: $6 – $10
Price drivers: New Developments from EOS, Crypto Market Sentiment
EOS/USD is trading at $6.4 level, exhibiting a robust bullish reversal after dropping from its all-time high level of $23.02. Considering the past six months' performance, the pair has gained +$3.9, soaring massively by 154.12%. Simultaneously, EOS has added +$3.9 to surge by 187.55% over a year. Currently, the EOS/USD Live Price chart suggests that it's trading at $ 6.4. The cryptocurrency market exploded back in 2017 and 2018 when the price of almost every asset hit an all-time high (ATH) after investors' interest expanded and new cryptos flooded exchanges. The rise in investors' interest pushed Bitcoin's value above $20,000, and XRP's price grew by about 36,000%, while EOS also broke its record and reached $23 after raising over $4 billion during its Initial Coin Offering (ICO).
EOS is a third-generation cryptocurrency like the other assets that entered the market during the crypto-boom era. Brendan Blumer is an American entrepreneur, executive, and investor. He is the CEO of Block. one, the tech company producing the EOS.IO distributed ledger software. Just before the gold rush for cryptocurrencies, EOS entered the market and had a great run in the first months of its life. Being a third-generation digital currency gave it an advantage as the founders learned from the mistakes of previous generation cryptos like Bitcoin, Litecoin, and Ethereum. EOS has the same blockchain as the second-largest cryptocurrency of the world by market cap, Ethereum. However, ETH can only handle 15 transactions a second, while EOS can process thousands of payments at once.
The advanced efficiency and scalability of the EOS make investors more dedicated to this platform. EOS has a market capitalization of around $6.44B, and it stands at 22nd position in the list of cryptocurrencies by market cap as of 6th April 2021. Let's take a look at the EOS price prediction for 2021 and the next five years to answer whether EOS is a good investment or not.
Recent Changes in the EOS/USD Price
| | | |
| --- | --- | --- |
| Period  | Change ($) | Change (%) |
| 30 Days  | +1.6 | +33.31 |
| 6 Months  | +3.9 | +154.12% |
| 1 Year  | +3.9434 | +187.55% |
EOS/USD Price Prediction for the Next 5 Years
EOS is much like Ethereum as it is a decentralized blockchain platform that facilitates the use of decentralized apps (DApps) and smart contracts. The blockchain of EOS is also known as EOSIO, a platform used to build new DApps. Developers of DApps also receive block rewards while building on the EOS blockchain (EOSIO). Recently, EOS has caused many heated discussions in the crypto market as it has competed with the world's second-largest cryptocurrency Ethereum. The record-breaking ICO of EOS gained much attention from the media due to its functionality as its platform EOSIO has a unique feature of excluding transaction charges. It means that unlike Ethereum, EOS has no transaction fees and can process thousands of transactions at once. 
Due to its multibillion-dollar ICO, EOS got listed on most exchanges  within just a few days of its launch. In 2018, EOS/USD rose to its all-time high of $23 amid increased interest of investors. However, the prices didn't remain there for long and started dropping. Since then, EOS has been in a bearish trend except for February 2019, when the prices rebounded from $2.2. This price hike continued till June 2019, when it hit $9.89 and then reversed its trend to the negative side. Since then, the prices remained under consolidation throughout 2020. However, the start of 2021 proved to be beneficial for EOS and other cryptocurrencies as well. Since January 2021, EOS prices rose from the low of $2.3 and have reached $6.7 in April.
The increased adoption of cryptocurrencies by big institutions and the increased popularity of smart contracts, DApps, and NFTs have raised cryptos prices to all-time highs. Given the recent situation and environment surrounding the crypto market, we can say that EOS has a bright future ahead. Let's take a look at the factors that are expected to affect the price of EOS/USD in the near and long-term future and how these factors will affect its prices in the years to come.
Factors Affecting EOS/USD
Network Development

– The very concept behind the EOS development has made it popular from the initial days of its launch. The attention and support that EOS gained in such a short time were very impressive, and it was all due to the functionality of its platform. The EOSIO blockchain can process thousands of transactions without any additional fees. It has also surpassed the major credit cards like the famous Visa in transaction processing. 

The massive scalability and virtually zero cost have fulfilled its promises made during ICO; however, there is still room for improvement as the network is not fully developed. The upcoming developments in the EOS network will positively impact its prices in the coming years.  

Cryptocurrency Market

– Unlike any market, the prices in the cryptocurrency market are not subject to supply and demand as the supply side of the currency usually has a hard cap from its developers. Hence, supply does not play an essential role in determining the price of a cryptocurrency. However, demand is one of the  most critical factors in the price determination of cryptos as the value lies in consumers' perception of the currency. Lately, cryptocurrencies are becoming increasingly accepted, which has naturally boosted their value.

Being the largest cryptocurrency by market cap, Bitcoin plays a huge role in the cryptocurrency market. It is often regarded as the king of cryptos as it tends to affect the prices of other cryptocurrencies. Since the industry boom in 2017, other currencies tend to follow Bitcoin. According to cryptowatch.ch, the correlation coefficient of Bitcoin and EOS is 0.50, which means any change in Bitcoin will have about half an equal effect on EOS prices. Recently, Bitcoin has surpassed its all-time high (ATH) level of $60,000, and since then, the trend has been bullish around Bitcoin due to increased popularity and adoption. This rise in Bitcoin affected other cryptocurrencies and EOS coin that followed BTC and reached above $6 in just four months from $2. 

As the popularity and adoption of cryptocurrencies have expanded, the outlook for the crypto market has also improved, which is expected to push EOS prices in an upward direction. However, the second-largest cryptocurrency by market cap, Ethereum (ETH), is a strong competition of EOS. The recent trend surrounding ETH is also positive, and this competition between the two coins poses a threat to EOS prices.

Increased Adoption

– EOS was developed with a vision to make blockchain technology available for everyone without any cost to improve the ease of usage. The current developments are also working in progress with a mindset for increasing its adoption on a massive scale. 

EOS has a special feature of scalability that makes it unique as it can process thousands of transactions at once. EOS is aiming for a million transactions to be processed in a second, and if it becomes successful in achieving this aim, the adoption of EOS would definitely be increased.

EOS is a suitable digital payment platform, and it is also determined to encourage the use of blockchain technology through smart contracts and DApps.

Recently, the smart contract platform of EOS is said to become the first truly decentralized chain on the back of LiquidApps. It will be achieved by integrating LiquidApps's DAD Bridge to enable the cross-chain liquidity transfers between Ethereum and EOS networks. This kind of positive news tends to help EOS prices, and in the future, if it can be achieved successfully, then EOS prices will rise in coming years.
Technical Analysis – EOS/USD Plunging towards Triple Bottom $2.77
The EOS/USD  pair is exhibiting strong bearish bias since May 2021, dropping from $14.76 level to $3.7 level. On the technical front, the pair is trading sharply bearish at $3.68, holding below monthly 20 and 50 periods EMA resistance levels of $4.01 and $6.3 levels, respectively. The leading technical indicators, the MACD (Moving average convergence divergence) and RSI (Relative Strength Index), are exhibiting a bearish trend in the currency pair. 
On the monthly time-frame, the MACD and RSI are holding in the selling zone, exhibiting a solid selling trend in the price. EOS/USD is on the verge of closing another bearish candle that may extend selling trends until the $2.7 level.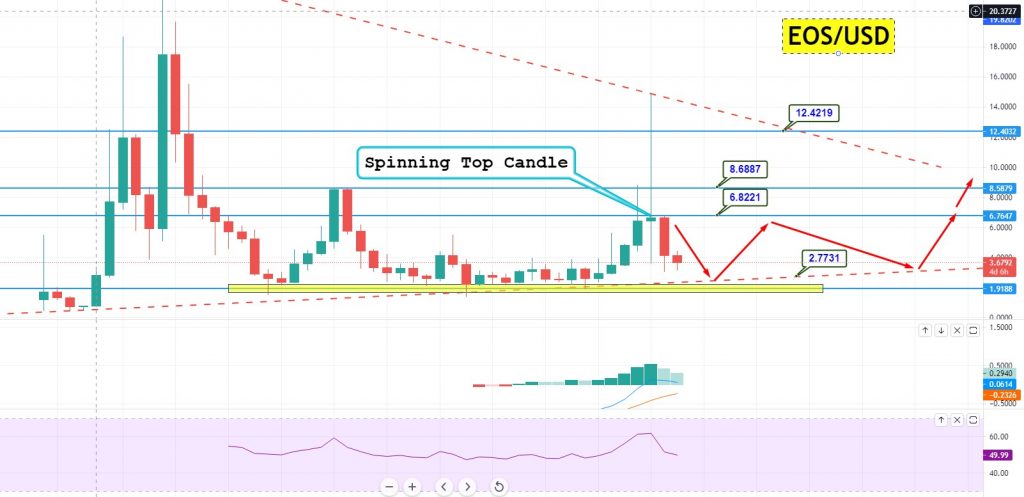 EOS/USD – Monthly Time-frame – Upward Trendline to Suppprt at $2.77
On the monthly time frame, EOS/USD is heading lower towards $2.77 support level, and the upward trendline is likely to provide support at this level. However, the breakout of this level has the potential to load EOS price further lower towards the next support area of the 1.9118 level.
The chances of a bullish reversal remain strong above $2.77 level unit next resistance level of $6.8. Bullish breakout of this resistance can lead the EOS/USD coin towards the $8.6 level.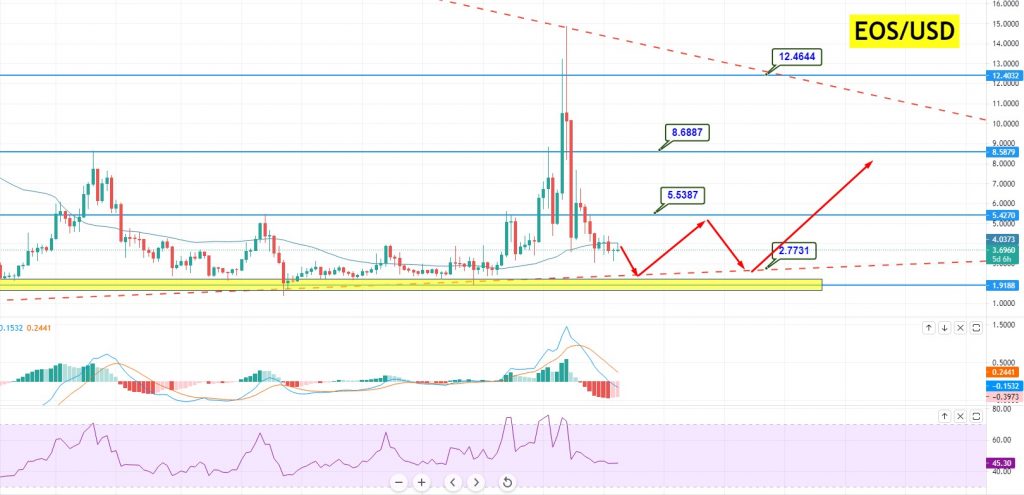 EOS/USD  – Weekly Time-frame – Choppy Trading Sessions
The EOS/USD  pair has entered the selling zone at the $3.6 level on the weekly timeframe, and it has strong odds of a bearish trend continuation until $2.70. The series of exponential moving averages are also suggesting selling trend in the pair. These exponential moving averages are holding around the $4.03 level, suggesting bearish opportunities in the pair. The pair may find immediate support at the $2.77 and $1.90 area, and the violation of this level can lead it towards the $1.09. The weekly RSI and MACD indicators support a selling trend.
Since the MACD has started forming smaller histograms than the previous ones, the odds of a bullish correction remain solid over the $2.77 level. On the higher side, the EOS/USD coin can face resistance at $5.5 and $8.6 levels. Good luck!
Updated: Aug 03, 2021