What's Going On with Our EUR/GBP Signal?
Yesterday, we opened a short term sell forex signal on EUR/GBP. This pair has been in an uptrend recently and yesterday in the afternoon, it took place at the latest leg of this uptrend. We tried to pick a top as that upward move was fading out. 
We should have waited a bit longer though, so we could have gotten a better entry price for our forex signal. Maybe waiting to get close to Tuesday´s high would have been better, but right now, this signal doesn´t look so bad.
Third times the charm for sellers?
On the H1 forex chart above, we can see that the price just failed for the third time at the 0.7840-50 level, which of course, is good news for EUR/GBP sellers. 
The previous hourly candlestick closed as an upside down hammer, which is a trend reversing signal. Besides that, the following candle closed pretty bearish, so that confirms the trend reversal chart pattern.  
The divergence can be easily spotted. 
The daily chart looks quite favourable as well. Stochastic and RSI are oversold and there is some sort of divergence between the price and stochastic. A divergence like this is not the strongest sell signal, but all these signals together on both forex charts make up for it.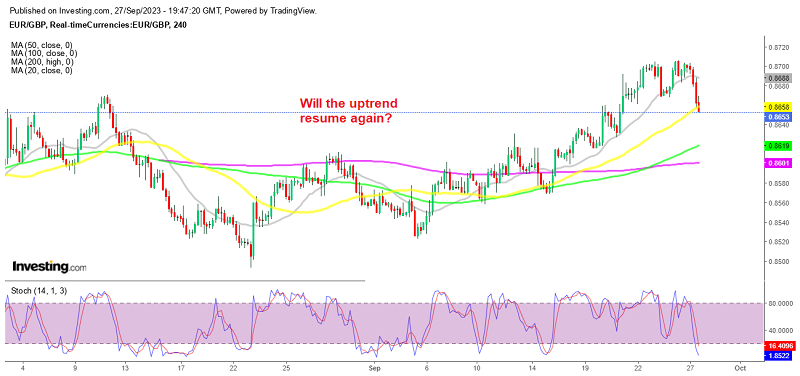 18 hours ago
EUR/USD should break below 1.06 this week with the business climate and inflation softening further in September
4 days ago