Forex Signals U.S. Session Brief, September 15 – GBP Traders Wait for Carney, While Cryptos Keep Marching Higher
Today has been pretty quiet which is understandable since it is Monday, but cryptocurrencies never fail to disappoint when it comes to action. GBP pairs have been quiet as well, but I suppose that forex traders are positioning themselves before the main man gets in the spotlight.
Let's see what this guy has to say in an hour.
GBP Waiting For Carney
As I mentioned in my first forex update today, the British Pound has been absolutely surging in the past several days on the back of higher inflation and hawkish comments from Bank of England (BOE) members.
According to our fundamental book, the GBP should be diving because the economy is not doing that great, and politics are a mess as well as Brexit. The market has its own ideas, and GBP/USD has gained around 500 pips only last week.
Today though, GBP traders seem too quiet. That's because Mark Carney, the BOE chairman is due to speak in Washington at a conference held by the International Monetary Fund.
The concern for GBP traders is that Carney might use this opportunity to slap the Pound lower, but he might not address the recent GBP strength which would send GBP climbing again.
There are risks both ways for GBP and GBP traders hence the small rage today. We sold EUR/GBP a while ago, but we will explain this trade further in the article.   
Ethereum and Bitcoin are on Steroids Again
Last week the cryptocurrency market had a scare, and the major digital currencies lost nearly half of their value. The reasons were the announcement from China that they would close the Chinese Bitcoin exchange and a certain guy who said that Bitcoin was a fraud and likely to collapse.
I argued in Friday's U.S. session brief that both the reasons for the decline didn't stand, so a reverse was due which indeed happened fairly soon.
The reversing point for both these digital currencies was the 20 SMA on the weekly charts or the 100 SMA on the daily charts, so I can't say that I picked those levels out of nowhere. The 20 SMA on the weekly Bitcoin and Ethereum charts have been providing support the entire year, so it wasn't a big surprise to see them do the same.
Today the cryptocurrencies have pushed higher, so we can confidently say that the gold rush for cryptos is back in full swing. Due to this, I hold a bullish bias for Bitcoin and Ethereum, so I'm waiting for a retrace lower to buy.  
Trades in Sight
Bearish EUR/GBP
The trend has been down the entire month
The retrace higher today seems to be over
Stochastic is overbought on the H1 chart
The 50 SMA on the H1 chart is providing resistance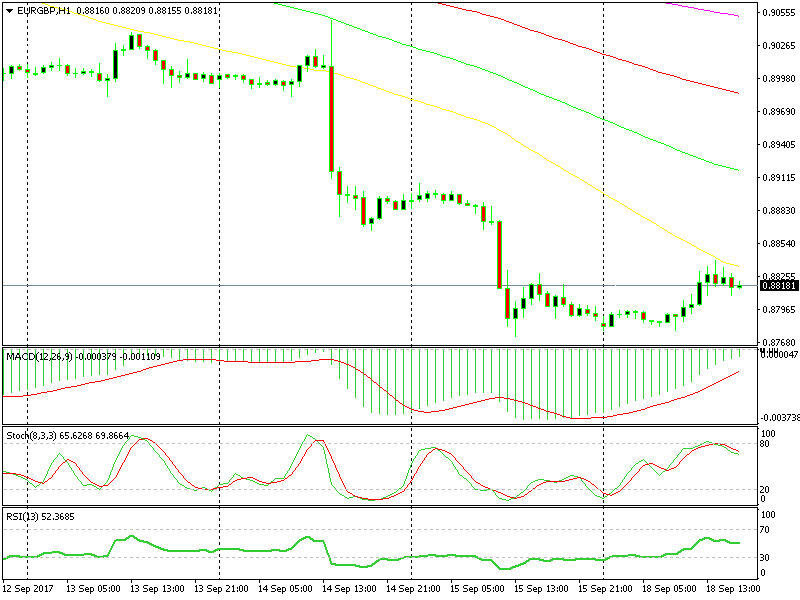 EUR/GBP has already started to turn down.
We opened a sell forex signal in this pair a while ago, and it looked pretty good. This forex pair retraced higher this morning after a strong downtrend in the last few days, but the retrace seems to be over.   
The stochastic indicator is overbought on the hourly chart. The 50 SMA (yellow) was previously providing solid resistance but isn't any longer, so we decided to pull the trigger.  
In Conclusion
The digital currencies got back on their feet on Friday afternoon are advancing higher today, so I'm waiting for a retrace to get long if that retrace does happen. BOE's Carney will be up soon holding a speech and we hope that our EUR/GBP signal closes in profit before he starts. If not, we might have close it manually.