Cryptocurrencies Took A Beating Overnight
Yesterday we opened a buy forex signal in Litecoin as cryptocurrencies were retreating after rallying higher for a couple of days. Most of these currencies slipped lower and became oversold on the H1 chart, reaching moving averages which usually act as support.
They did act as support for some time during the evening, but they couldn't hold on overnight. As you can see from the Bitcoin chart below, the 50 SMA (Yellow) which was providing support got broken. A similar pattern happened in Litecoin overnight, so our signal there got smoked.
 Cryptos spilled lower overnight 
Although, another moving average came to rescue. The 100 SMA (green) provided support during the night and Bitcoin climbed $100 higher, but now the buyers are finding resistance at the 50 SMA (yellow).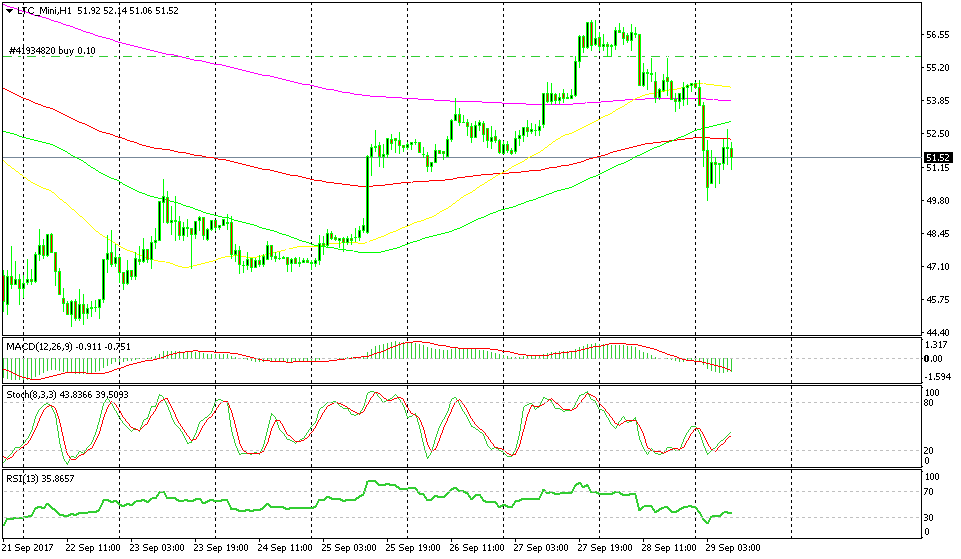 Shift to short now?
That looks like a good selling opportunity, but Litecoin offers a better opportunity since it has been weaker than Bitcoin in the last few days.  
Litecoin is finding resistance at the 100 SMA (red) on the hourly chart and the 10 simple MA (green) is standing just above that.
Although, the stochastic indicator is not overbought yet, so I wouldn't sell right now or perhaps I would, but I would love to see stochastic overbought when going short, so let's wait a bit longer.