EUR/GBP Is Taking Its Time, but the Pressure Is Bullish According to the Price Action
EUR/GBP has been trading in an uptrend in the last 4-5 trading days with retraces lower every few session. Yesterday, this forex pair was going through another pullback period as it slipped down to the 50 SMA (yellow) on the H1 forex chart.  
This moving average had provided support and resistance before, so we thought that it might do the same this time. We decided to open a buy forex signal when the price was flirting with this moving average, but it was having trouble breaking below it.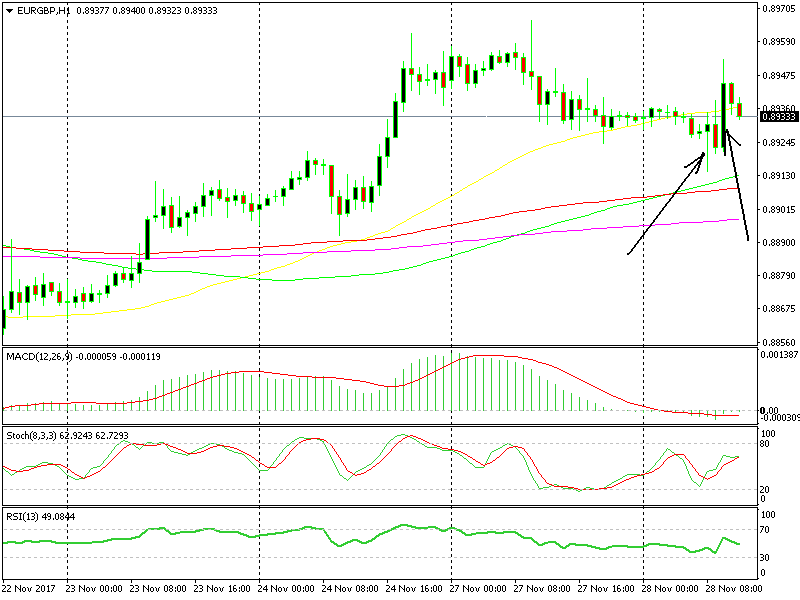 Those two candlesticks show that the buyers are active in this pair.
As you can see from the H1 EUR/GBP chart above, the sellers tried to break below the 50 SMA all evening and in the early hours of the morning, but without success. It only broke lower this morning, but again, the buying pressure was evident.
If you see the candlestick where the first arrow is pointing at, it is a doji. It is a reversing signal after the retrace lower in the last few trading sessions. That sort of candlestick shows that the buyers have rushed to buy this forex pair as soon as they saw a small dip.
Another sign which shows that the pressure is on the upside is the other candlestick at the second arrow. The buyers piled in again once the price was in the 90.8920 region. It coincided with London open, which means that UK traders have a bullish bias in this pair.      
Now the price has climbed back above the 50 SMA while I was typing this forex update. The pullback lower in the last couple of hours seems too weak and the buyers are jumping in at the 0.8920-30 region, which means that there is strong buying interest in this area. Again, this shows that the buying pressure is on the upside and EUR/GBP is climbing up slowly, so let's hang on to our forex signal.