GBP Feeling Jumpy Before the UK Earnings Report
Posted Wednesday, December 13, 2017 by
Skerdian Meta
• 2 min read
Most of the major currencies have been retracing higher against the USD overnight, but they have turned back down in the last few hours. Not the GBP though; the British Pound is feeling jumpy as it pops from 1.3320 to 1.3350 in about an hour.
It wasn't a straightforward jump to be honest. The price dipped to around 1.33 for a few minutes before reversing and shooting higher. This sort of price action tells us that the nerves are playing games right now.
The UK earnings report is about to be released in a few minutes. This is one of the most important fundamental events for the BOE and it has a massive impact on the GBP.
Yesterday, the inflation report showed that the prices are running away in the UK. CPI (consumer price index) moved higher to 3.1% while PPI made an impressive jump from 1% in the previous month to 1.8% this time.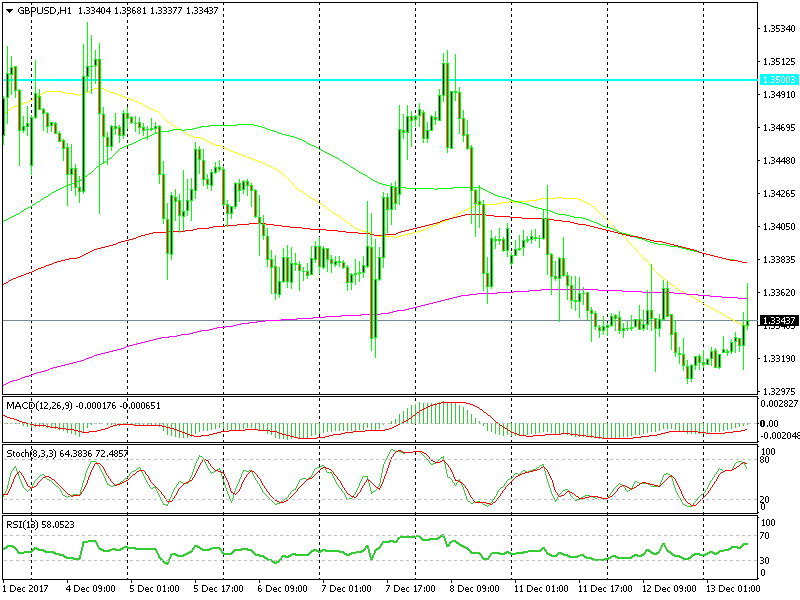 The downtrend in GBP/UD remains intact
Today, earnings which means wages and salaries including bonuses, are expected at 2.5%. That would be a decent jump in earnings and it would strip some of the negative effects from the higher prices, which are already weighing heavy on the UK consumer, ask me and my friends.
So, a decent earnings report would be a double win for the GBP, which should surge higher for some time. Even if the report comes as expected it will be seen as a pretty decent reading, so if you can get in on the long side right after the release, please help yourself.
But, GBP won't run up forever because Brexit is behind the door. After 100 or 200 pips I would call it a day if I was long on GBP/USD and the report came out positive. Don't be too greedy, especially not now, otherwise you will lost what you have earned.