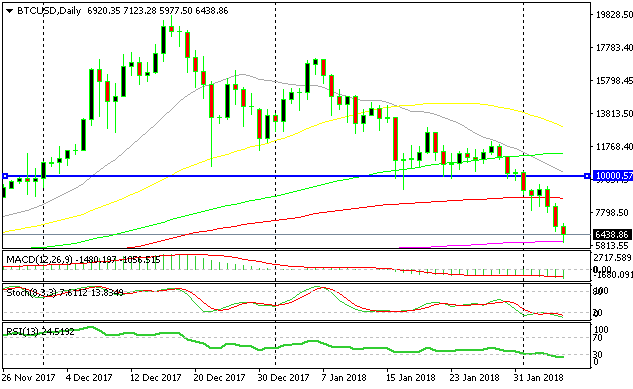 Cryptocurrencies Bounce Off Moving Averages
Cryptocurrencies have been sliding pretty fast in the last few days. The reverse began back in December when Bitcoin failed to break above the $20,000 level right before Christmas. Since then, cryptocurrencies have only been on a one-way track.
The price is acknowledging 200 SMA
Although, there have been some violent jumps. Last evening and again a couple of hours ago, Bitcoin jumped nearly $1,000. Yesterday, the jump came right in the middle of nowhere, but today, major cryptos are backing off from some important levels.
If we look at the daily charts of Bitcoin and Ethereum, we see that the price just touched the 200 SMA (purple) and the 100 SMA (red) respectively and it bounced off of them. The daily chart is important for all financial instruments, so the technical indicators in these charts are pretty important since everyone looks at them.
You can see that the 100 SMA (red) provided support for Bitcoin late last week. It eventually got broken, but it held the decline for a few days. So, cryptocurrency traders do look at these moving averages on the daily chart. Today, Bitcoin is bouncing off the 200 SMA. This might be the reversing level; after all, the daily charts are severely oversold. But, we will have to wait and see if the bounce gains pace and turns into a proper reversal.