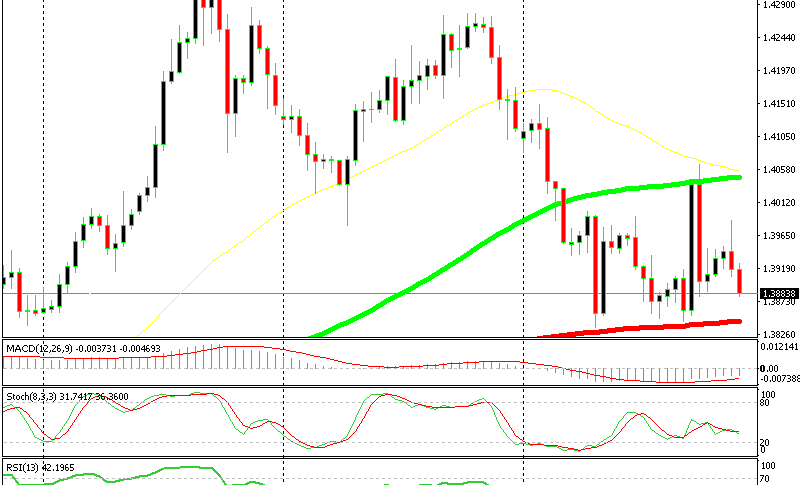 GBP Is Not Turning Bullish After All That Noise from the Bank of England Yesterday
Yesterday the Bank of England (BOE) held its usual meeting and they turned pretty hawkish, to be honest. They hiked GDP growth expectations for this year and next year as well.
Besides that, chairman Carney said that if the BOE keeps interest rates still while other central banks are moving them higher, that would be considered as an accommodating monetary policy. So basically, what he meant is that we should get ready for rate hikes, after all, everyone else is doing or is planning to do so.
GBP bulls felt excited and GBP/USD surged 200 pips higher from the bottom. This pair had lost around 450 pips in the previous several days. So, it seemed like the trend was changing from bullish to bearish. But, the 200 pip surge after the BOE meeting yesterday changed the situation again.
I thought that the GBP was going to turn real bullish and continue climbing higher. But, it reversed back down pretty quickly and gave back all of the gains. In fact, it reversed right at the moving average I highlighted yesterday.
I posted a forex update yesterday where I mentioned that GBP/USD was trading between two moving averages on the H4 chart, the 100 simple MA (green) on top and the 100 smooth MA (red) at the bottom.
We're still trading between those two moving averages I talked about yesterday
This forex pair is still trading between these two moving averages today, so it hasn't turned bullish. I don't know what happened after Carney, but this is a sign that GBP/USD has lost its stamina after the strong bullish run in January. Although, you can give it a try at the 100 smooth MA (red) at the bottom. You can open a buy signal there with a stop below it, perhaps you can get a handful of pips.