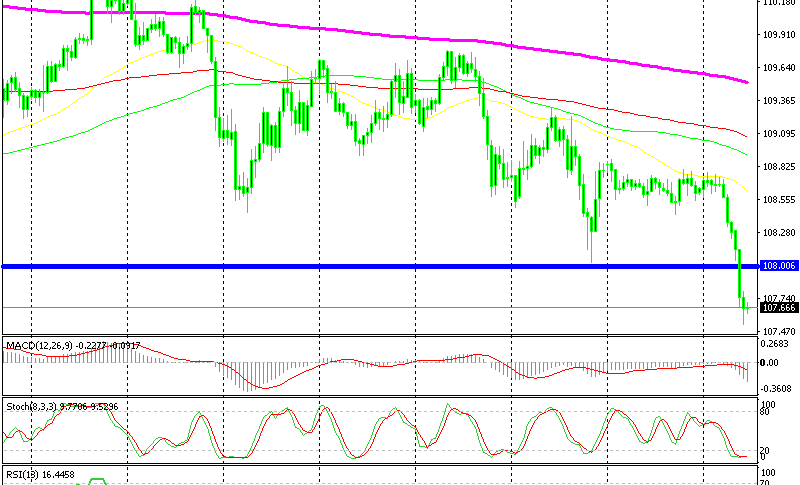 The Big Level Is Gone in USD/JPY, but One Last Obstacle Remains
We have been talking about USD/JPY quite often recently. This forex pair found strong support at the major 108-109 support area. The Buyers have activated at this area and sent USD/JPY jumping higher many times three weeks.
But, the sellers have always returned stronger. They have kept the selling pressure constant in this pair. In fact, they have jumped in at a lower level every time, making lower highs. When a pair keeps making lower highs, the market sentiment is bearish. If it can't make new highs, it will surely make new lows.
Farewell 108
So, we have returned to this support area many times in the last several weeks which is another bearish signal. If the price keeps banging against a certain support/resistance level, sooner or later it will go.
Last Friday the big support level at 108-40-50 was broken, but 108 remained untouched. That was a warning sign and that's why we didn't open a long term buy signal here.
This morning, we find USD/JPY below 108, so the big support area has finally been broken. Although, there's one more level which might offer some resistance.
107.30 was the low back in September 2017 so there might be a bounce from there. We will observe the price action when USD/JPY gets down there and might open a small long trade from there.