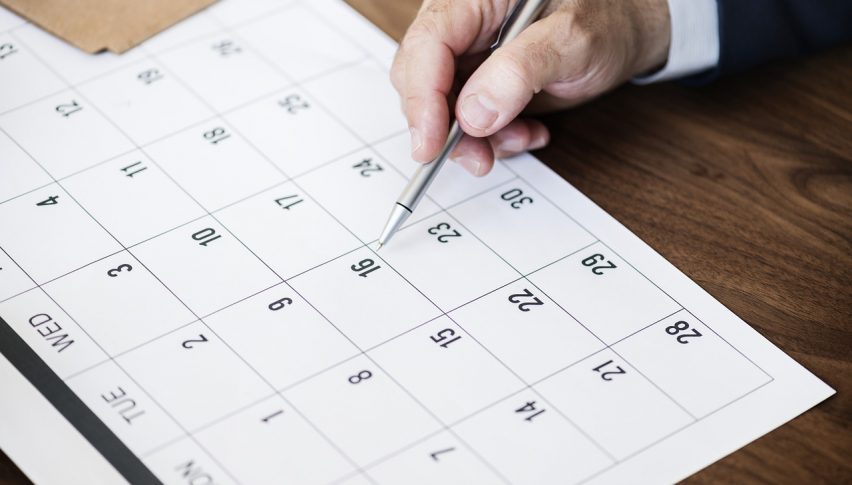 Feb 26 – March 2: Weekly Economic Outlook – Central Bankers Speech In Spotlight
Posted Monday, February 26, 2018 by
Arslan Butt
• 3 min read
Welcome back, traders. I hope you had a marvelous weekend. This week, the technical indicators are going to play a significant role as the fundamental side it bit light. Are you excited to make profits this week? Here are the top economic events that I will be looking at this week…
Economic Data Watch List
The Greenback gained some grounds as the FOMC Meeting Minutes showed confidence in the US economy and that inflation will ultimately reach the 2% target. In response, the investors started buying the Dollar on the back of sentiments that Fed may hike interested rate in March 2018.  
Monday – Feb 26
EUR – Mario Draghi Testifies
Mario Draghi is due to testify on monetary policy and the inflation outlook before the European Parliament Economic and Monetary Affairs Committee, in Brussels at 14:00 (GMT). He is expected to speak about the latest economic developments and since this event is coming well before ECB monetary policy meeting next week, the Draghi will be closely heard for further clues on tapering the QE (quantitative easing) program.
USD – New Home Sales
At 15:00 (GMT), the Census Bureau will release the data on the annualized number of new single-family homes that were sold during the previous month. It's forecasted to upbeat by 655K vs. 625K in Jan 2018.  
Tuesday – Feb 27
USD – Core Durable Goods Orders m/m
Besides Powell testimony, you must watch Core Durable Goods Orders at 13:30 (GMT). It's an economic indicator that measures the change in the total value of new purchase orders placed with manufacturers for durable goods, excluding transportation items. The orders are expected to gain by 0.4% which is less than 0.7% gain in Jan 2018. The dollar can stay under selling pressure over this.
USD – CB Consumer Confidence
The figure measures the financial confidence of investors for a majority of overall economic activity. The figure is expected to increase to 126.2 vs from 125.4 points beforehand.
Wednesday – Feb 28
EUR – German Prelim CPI m/m
On the last day of the month, investors will be looking at the inflation headlines. Since Germany plays a really important role in the overall business activities of Eurozone, so, the German primary inflation figures will be closely monitored. Anyhow, the Inflation is forecasted to rise by 05% vs. -0.7% drop previously.
USD – Prelim GDP q/q
It's the broadest measure of economic activity and the primary gauge of the economy's health of any economy. I will be sitting tight to capture the price movements occurred due to this. The primary figures are forecasted to drop from 2.6% to 2.5%. Fellows, the GDP typically moves US dollar, Gold (bullion market) & indices, so it's better to keep an eye on it.
Thursday – March 1
AUD – Private Capital Expenditure q/q
The figure will be monitored during the Asian open at 0:30 (GMT). It's a leading indicator of economic health and businesses are quickly affected by market conditions, and changes in their investment levels can be an early signal of future economic activity such as hiring, spending, and earnings. For now, private capital expenditures are expected to rise by 1.1% as compared to 1% in Nov 2017. For your info, it's a quarterly data and does play a good role in price movements.
GBP – Manufacturing PMI
The figure is due at 9:30 (GMT) on Thursday and carries a forecast of 55.1 vs. 55.3. For newbies, the benchmark is above 50.0 indicates industry expansion, below indicates contraction. So, the divergence in decimals typically makes no difference to Sterling.
USD – Fed Chair Powell Testifies
At 13:30 (GMT), Powell is due to testify on the Semiannual Monetary Policy Report before the House Financial Services Committee, in Washington DC. That's going to be his very first testimony as a new Fed Chair. It's the best chance for us to understand whether he keeps dovish or hawkish stance.
Investors will form a sentiment about the next rate hikes and will price in the US dollar based upon on these sentiments.  
Friday – March 2
GBP – Prime Minister May Speaks
May is scheduled to speak about Britain's post-Brexit relationship with the European Union, in London. She is expected to talk about the relationships that UK's government want's to keep with the Europen Union. The continued membership in a single market is likely to underpin the Sterling and vice versa. The time of speech is tentative. Keep following us for more updates on it.
CAD – GDP m/m
It's one of my favorite news to capture quick 50 – 60 pips. The data will be monitored at 13:30 (GMT). The Canadian economy is forecasted to grow by 0.1% vs. 0.4% in Jan 2018. Wait for divergence my friends, it will pay off.
That's it for now, but stay tuned to our live market updates and forex trading signals for more profits this week. Have an outstanding week.