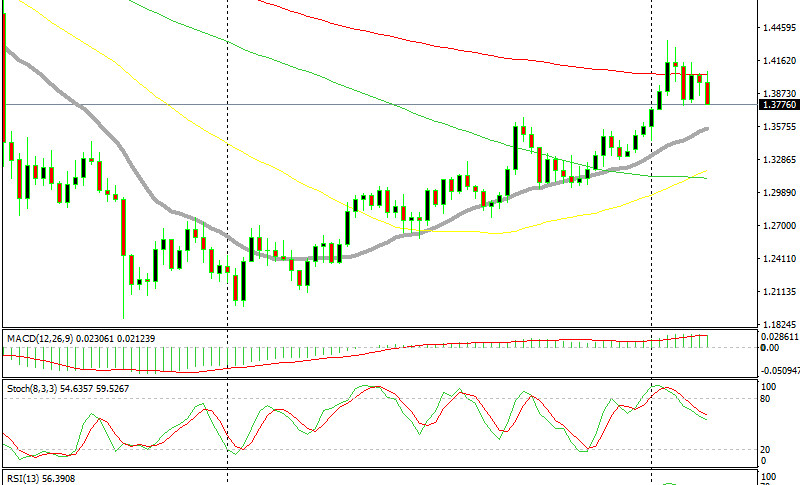 Correction or Reversal for GBP/USD
Much like the EUR/USD, the GBP/USD has been trading on a bullish uptrend, most of which was a result of the USD weakness. The recent Brexit ongoings have also helped this forex pair.
We opened a sell forex signal at around 1.3650 on the way up. It provided resistance in September of last year and was supposed to do the same again. This time, however, it was broken. The USD broke many long-term support levels last year.
The GBP/USD reached the 1.4340s in January and now reversed. Looking at the weekly chart below, this pair has restored lower with 300-400 PIP systematic pullbacks during the uptrend.
GBP/USD in middle of a retrace now
We are currently in the middle of another retrace lower. This pair is about 500 PIPs lower from the top, so the GBP/USD is pulling back.
The first target in this pullback would be the 1.3650 level. Although the real target would be the 20 SMA (grey) on the weekly chart that is standing at 1.3550 at the moment. If the decline continues as quickly as it has been in the last few days, then we might reach that moving average and get a 100 PIP profit.
The next target would be the 50 SMA (yellow), standing at 1.32. The profit would be much better if the sellers manage to go there except the 20 SMA is a tough nut to crack. It provided support since June last year and the price hasn't closed below it since then. Let's hope we see 1.30.