We Remain Bullish Today on USD as the Uptrend Stretches Further
The situation has definitely changed for the USD in the last couple of weeks. It couldn't find solid ground throughout last year and in January this year things got even worse. But February has been another story.
A new FED Chairman is on the job and the market seems content about that. Jerome Powell replaced Janet Yellen and he is a bit of a hawk to be honest. So, that's why the market has been getting ahead of itself in the last couple of weeks.
I still don't see him do anything different from what Yellen could do this year. Powell can't change the US economy right now, not that it needs much incentive at the moment. So, there will be as many interest rate hikes as there would be if Yellen was in the job. The consensus is for 2-4 rate hikes with the first one left as a present form Yellen for March.
Nonetheless, the market is excited and the Dollar has been breaking all levels resistance recently. That's without taking in consideration USD/JPY, but that is another story.
AUD/USD broke a major support/resistance level today but it is facing the 200 SMA on the daily chart. Actually, all commodity currencies are getting smashed. The Kiwi is about 250 pips lower from the highs while USD/CAD has surged about 400 pips in the last two weeks.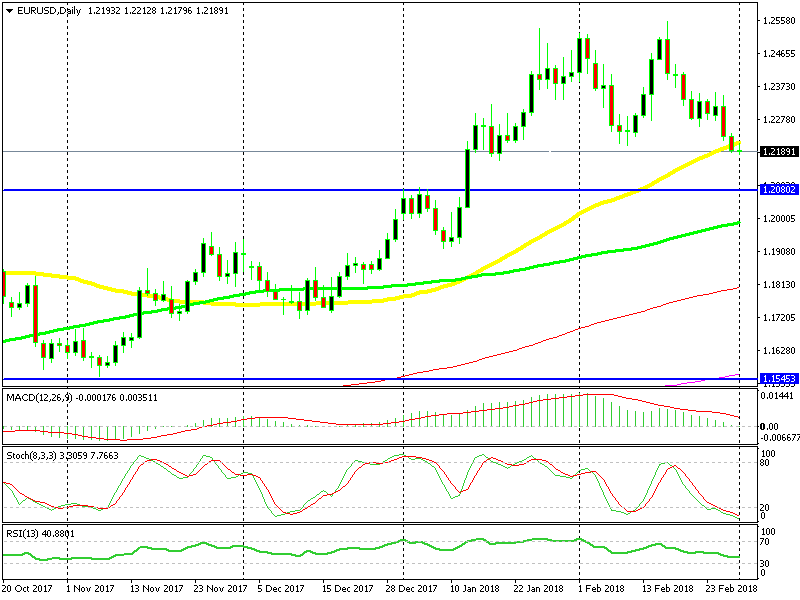 The 50 SMA is finally getting broken
EUR/USD is breaking the 1.22 level that we highlighted yesterday. This is a big level and it is not easy to break, so the sellers are taking it a bit easy. But this forex pair has slipped below the 50 SMA (yellow) which is a strong bearish sign.
So, we remain bearish on most major forex pairs. We are waiting for a retrace higher to sell either EUR/USD or GBP/USD. Powell is up later today in the afternoon with another testimony, so perhaps the market is just waiting for him.