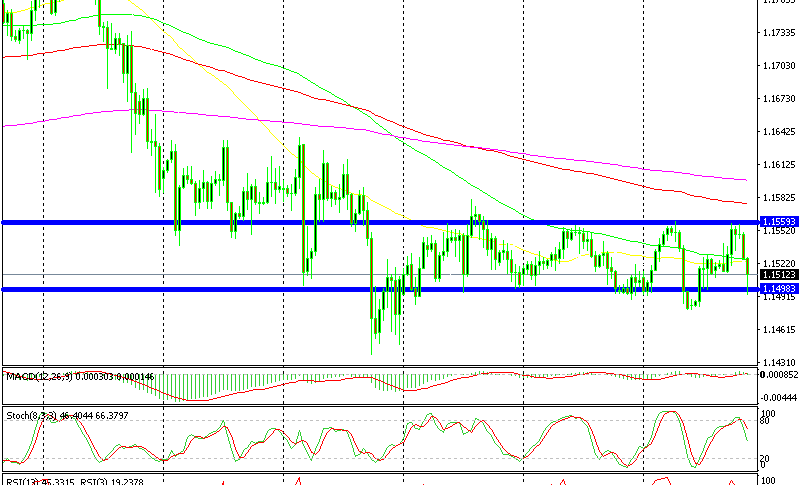 We Book Profit on EUR/CHF As Safe Havens Continue to Rally
Yesterday we opened a sell forex signal in EUR/CHF. This forex pair moved higher after Powell's testimony. In fact, EUR/USD jumped higher and it pulled EUR/CHF up with it.
But, I saw some fear in the markets yesterday in the afternoon. Forex traders were uncertain whether Powell sounded hawkish or bearish. Safe haven assets always get a boost when there's uncertainty in the markets.
The Yen was finding some strong bids throughout the afternoon and it is continuing to rally today as well.  So, we decided to open a sell signal in EUR/CHF. This pair held up near the day's highs as the Euro kept climbing higher yesterday, but eventually it reversed.
EU/CHF failed to break the resistance again
EUR/CHF has made a swift dive this morning ending up about 50 pips lower. It failed once more to take out the resistance level at 1.1550-60. We pocketed the pips from our forex signal in this pair and now are concentrated on the next signal in AUD/USD. This pair did climb somewhat yesterday on the back of some USD weakness.
But, the gains were minimal compared to other pairs. Now, it is turning lower, so the chances are that AUD/USD ends up hitting out take profit target as well.