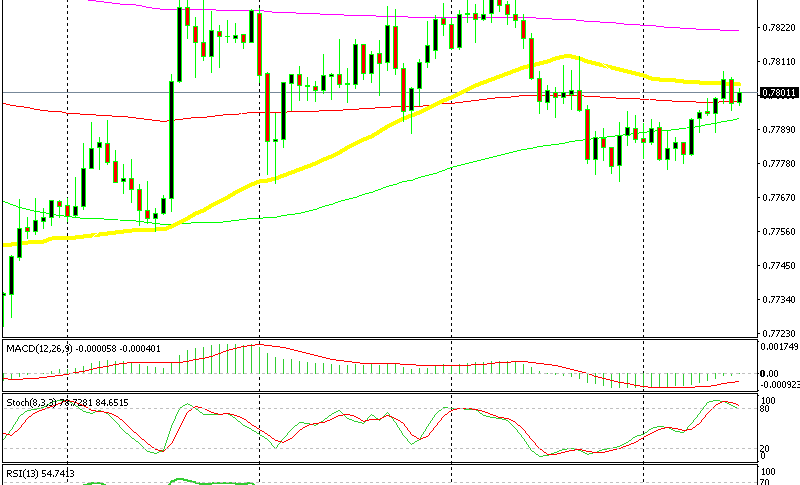 Shorting AUD/USD at the 50 SMA
A while ago, when we were writing the forex update about we opened a forex signal in AUD/USD. By the way, we took that trade in EUR/CHF, which is live now as a short term forex signal in our signals page.  So, we decided to take the trade in AUD/USD as well, so let's see what the charts tell us.
To start with, this air has been on a downtrend for about a month and a half. So, the larger trend is bearish. It has tried to make a pullback higher this week, but yesterday the downtrend resumed again as the US Dollar charged back after the ECB (European Central Bank) meeting.
The price got pretty close to the ascending trend line yesterday and the reverse back lower commenced. But, we took this trade based mainly on the hourly timeframe chart.
The retrace up seems complete now
As you can see from the H1 chart above, yesterday AUD/USD tumbled about 60 pips lower. This morning, we saw a retrace higher and now the retrace seems complete. The stochastic indicator is overbought and the price has reached the 50 SMA (yellow).
That moving average has been providing support and resistance before for AUD/USD and it looks like it is doing the same today. So, we are short on this forex pair now, let's see how this forex trade will work out.
The USD is feeling weak again as jobless claims came above expectations, confirming that the employment sector is feeling the pressure
2 months ago
Today the situation has reversed completely as Credit Suisse is showing difficulties, which has hurt risk sentiment
3 months ago