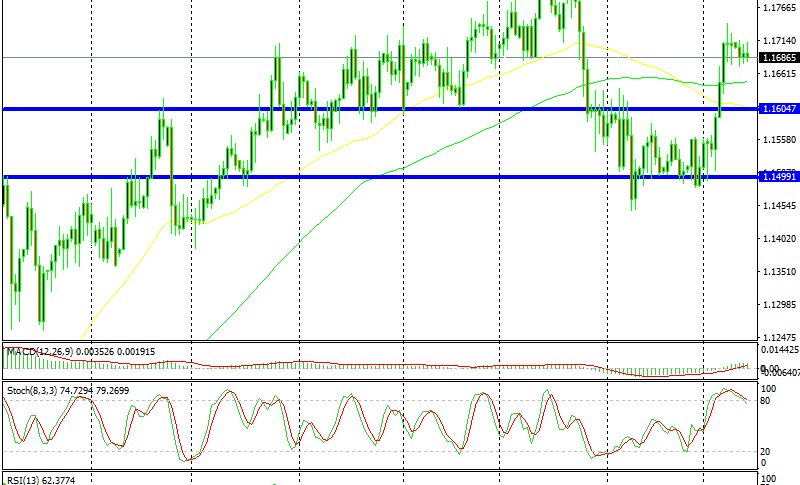 SNB Coming Soon – EUR/CHF to Watch
The Swiss National Bank (SNB) is releasing the monetary policy statement soon and making the rate decision as well. Interest rates are not expected to change, they remain at -0.75%, the lowest among major central banks. In fact, they have the lowest rates in the world, as far as I know, followed by Denmark with -0.65% and Sweden with -0.50%.
The rates might not change but the statement can get things moving for CHF pairs. It will be interesting to see if they will soften their tone about easing the monetary policy. If they do, then expect the CHF to start receiving some strong bids.
SNB's Chairman Thomas Jordan talked the CHF down about two weeks ago and the EUR/CHF rallied about 250 PIPs higher since the beginning of the month. He stated they will keep the current monetary policy and haven't been thinking about hiking them. If the statement today is less dovish, then the EUR/CHF will certainly dive lower.
1.16 and 1.15 are key levels for the EUR/CHF
How low? That depends on how dovish the statement is. If it implies a move in interest rates, it can be pretty big. If the statement is less dovish and doesn't touch interest rates, then I expect the move to either end at 1.16 or 1.15, if the bearish momentum gets going.
They are both big levels thus follow the price action to see if there's a trade there. If sellers show signs of weakness around these levels, it will be a sign for buyers to jump in. The statement may be quite dovish, similar to how Jordan sounded earlier this month. The EUR/CHF would keep the same trend in that case. I will only try to trade a possible pullback to the aforementioned levels.