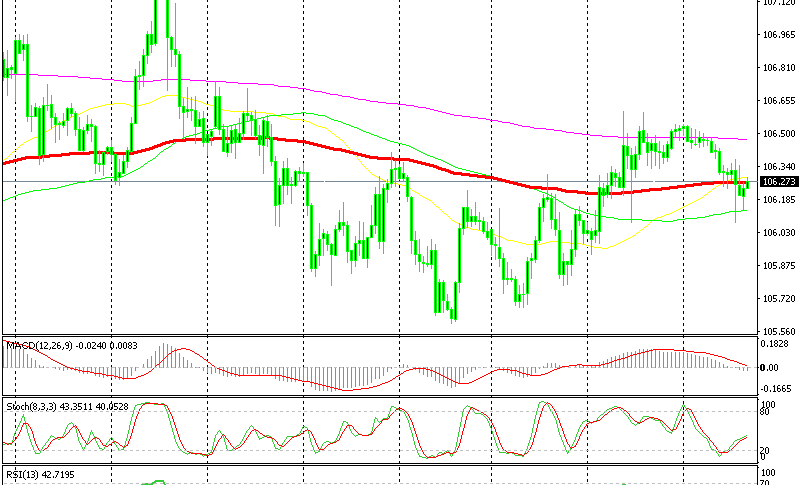 Why the Buy Signal in USD/JPY?
A couple of hours ago, we opened a buy forex signal in USD/JPY. If this forex pair has been sliding lower all day today, why did we decide to go long on this pair?
For starters, the bigger trend is bearish. By bigger trend, I mean the trend of the last 2-3 days. Before getting in a trade, we must look at the bigger picture because smaller trends confuse us or give us the wrong ideas.
Therefore, after looking at the trend of the last few days, we saw today's move as a retrace of this trend. But we waited until the stochastic indicator reached oversold levels before opening our buy forex signal.
By the time stochastic became oversold, price had reached the 100 SMA (red). This moving average has provided resistance previously, so it should normally turn into support now. It held sellers for some time and price formed a few dojis above it.
The red moving average got broken but the green one is doing a good job
Dojis are reversing signals as we know. Based on that chart setup we decided to go long on USD/JPY. But, we saw a spike on safe haven currencies about an hour ago, which pushed USD/JPY below the 100 SMA. We are about 10 pips in red at the moment, but sellers do not look too confident. I think that we will see a reverse higher soon. Fingers crossed.