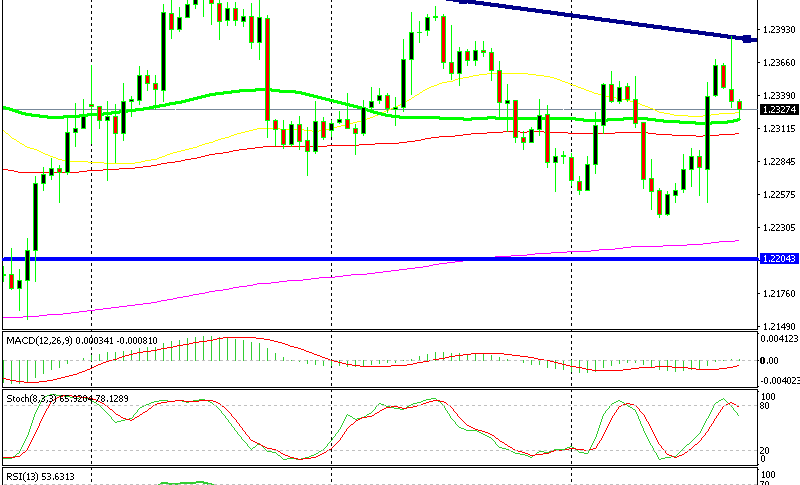 EUR/USD Makes A Turnaround but Faces the 100 SMA
EUR/USD made a decent climb yesterday after the Fed meeting. The Fed hiked interest rates by 0.25% which is supposed to support the US Dollar, but things went the opposite way, as we have often seen in recent months.
The US Dollar lost about 150 pips across the board. Any currency is usually expected to increase in value when the central bank hikes interest rates, but the Buck lost considerable ground. The forex market is not the same as it used to be a few years back.
Anyhow, EUR/USD climbed about 150 pips higher, but it is now reversing down. As you can see from the H4 chart below, price respected the descending trend line and it started reversing at the 1.2380 region. The price action we saw yesterday in the evening after the Fed hiked rates pointed to a great reversal to the upside yesterday.
Moving averages are standing on the way for sellers
But, this morning we see that this forex pair is reversing down. This is a good sign for the US Dollar by the way. It didn't deserve the beating that it took yesterday, so this reverse today just feels right.
Although, it is threatening our forex signal in EUR/CHF. EUR/USD now faces the 100 SMA as support on the H4 chart. This will be a deciding factor for this pair. If it breaks below the moving average, then the downtrend will likely resume. If not, then buyers will remain in charge.
The H4 chart is overbought and it is turning lower at the moment, so it seems like this pair is reversing. But we have to break the moving averages first. Right now, no one knows how this will turn out. Yesterday evening I thought that this was the end for the USD, but I still see some life in it this morning.