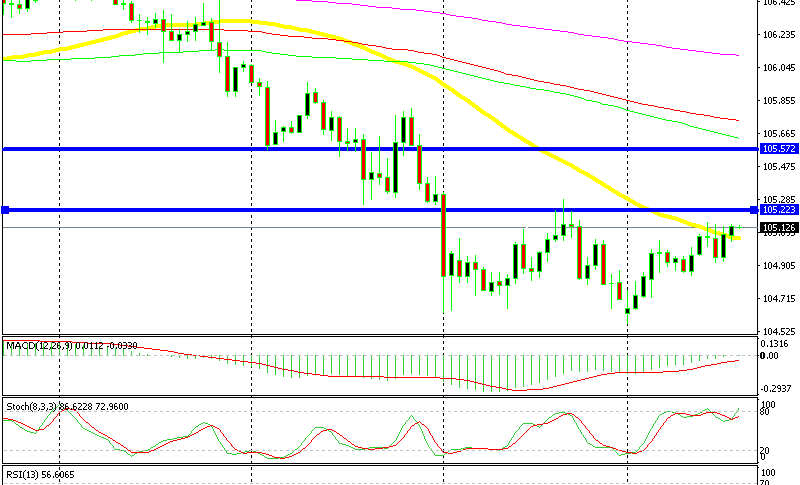 Getting Ready to Sell USD/JPY at the Same Level
Last Friday, we opened a sell forex signal in USD/JPY. This forex pair had been in a downtrend for months but the area around 105.00-105.50 had been providing strong support. Eventually, the support area had to give way to sellers as the market sentiment deteriorated.
Safe havens benefit when the sentiment turns sour in the financial markets. So, USD/JPY broke below 105 on Friday, but it returned up there again the same day. Buyers pushed up to 105.20s, which was the low this week.
We opened a sell forex signal at 105.08 on the way up, from what I can recall. Price reversed back down at 105.20s and eventually we banked the profit on that forex signal. Now, we are thinking about opening another sell signal at the same level.
I would like to see this pair at 105.20. The risk/reward ratio is much better up there for sellers. But, the hourly chart shows that the buyers might have a tough time pushing price up there. The 50 SMA (yellow) is providing resistance on this timeframe chart.
The stochastic indicator is also overbought and it is already heading down, which means that this pair is overbought.
Based on the above reasons, I have decided to sell USD/JPY at the current price. Now we are waiting for the downtrend to resume.