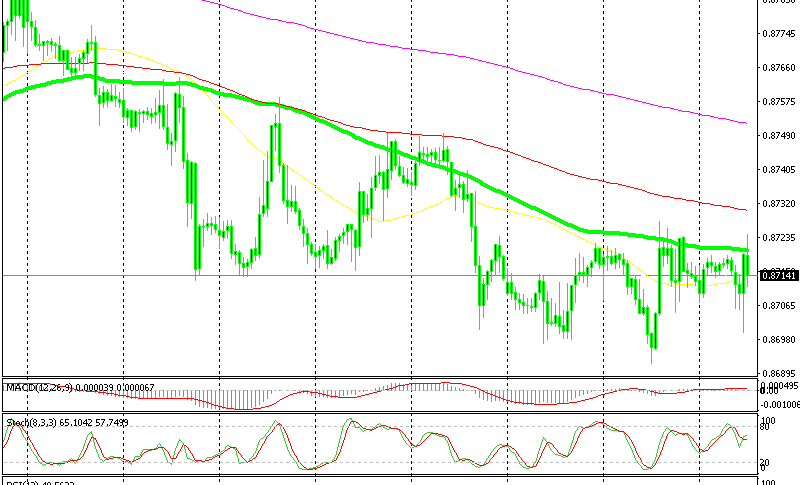 EUR/GBP Plays Games but the Downtrend Remains in Place
Yesterday we opened a sell forex signal in EUR/GBP. This pair had been trading on a downtrend in the previous several days, but spiked higher after the hawkish comments from the ECB member Nowotny. He said that the ECB (European Central Bank) should start hiking interest rates this year which came as a surprise.
That sent Euro pairs spiking higher. We saw that spike as an opportunity to open a sell forex signal, which is what we did.
We sold this forex pair when the price was trading below the 100 SMA (green). The price moved about 20 pips lower, then it returned back up, then it moved down again overnight but in the last two hours the buyers have brought this pair back up at the 0.8720 region.
The 100 SMA is still resisting
But the 100 SMA is still holding its ground. It provided solid resistance once again so we are relaxed on this front. We have a protector on the top side which is not letting anyone cross the line. Just in case, the other moving average (red) is standing just above as another defense line.
These two moving averages have been holding the trend down for about a week or so. So, as long as they remain unbroken, the trend will continue to be bearish. The stochastic indicator is overbought now so the retrace up should be over and the downtrend should resume soon. We're holding on to our trade!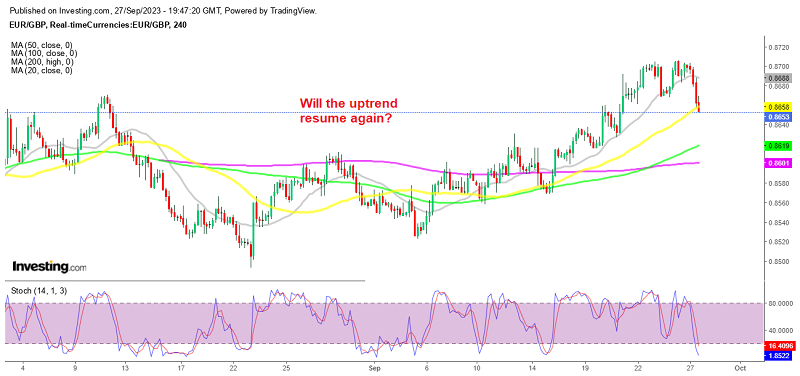 1 hour ago
EUR/USD should break below 1.06 this week with the business climate and inflation softening further in September
3 days ago