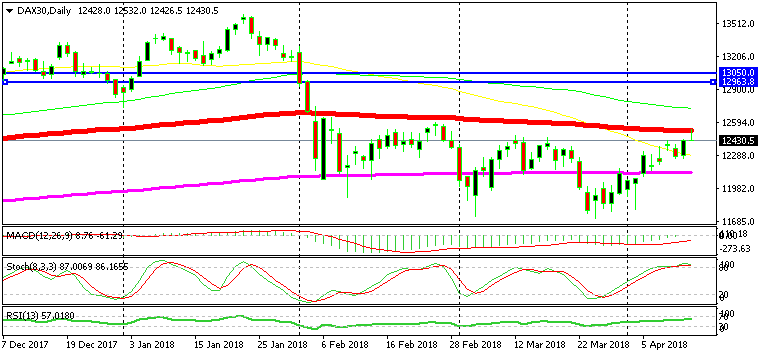 DAX Trading Between Two Moving Averages. Sell Before the War?
Indexes have been bullish for around a decade. This is one of the strongest bullish runs ever. The loose monetary policy from central banks has kept the buyers happy, thus the stock markets around the globe have enjoyed the best decade of their lives probably.
Although, we saw a dip pullback in the beginning of February. As you can see from the daily DAX chart, this index dived hard and lost around 2,000 points in about two weeks. The biggest part of the decline happened in just a few days.
Can you trade the range between moving averages?
DAX broke below the 100 SMA (red) as well as the 200 SMA (purple). The price moved above the 200 SMA, but found solid resistance at the 100 SMA and dived below the 100 SMA again. This has been going on for two months, although we have been inside of the range for most of April.
The market sentiment has been positive in the last two days, so indexes have been moving up. DAX touched the 100 SMA today, but it seems like this moving average is providing resistance again.
The stochastic indicator is oversold as well, which means that the retrace up is complete. So, DAX is looking like it is going to reverse down once more today. But, the sentiment is still positive in the financial world.
Although, war might break out during the weekend. If that happens, then I expect indexes to open with a big gap lower on Monday morning. We might go short on DAX with a long term signal, but I will let my colleague Arslan know about this setup, because he is in charge of index signals.