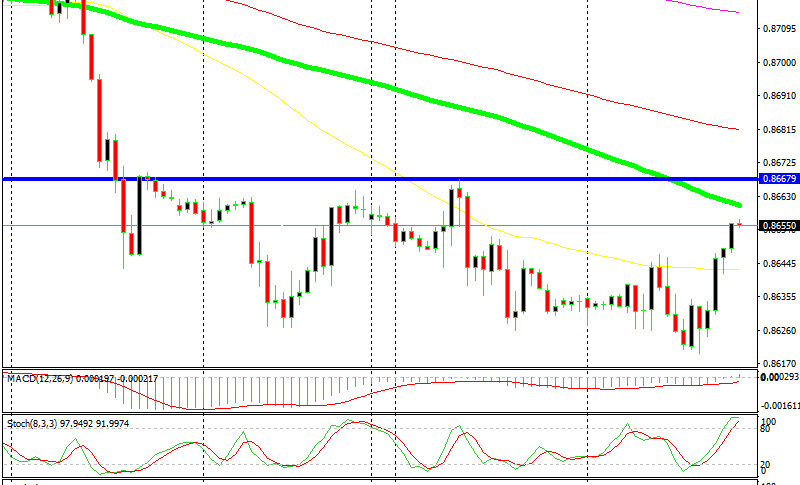 EUR/GBP Retracing Up. Getting Ready to Sell
EUR/GBP has been going through a downward spiral for more than a month. The downtrend has been steep and this pair has lost nearly 350 pips from top to bottom. The reason for this has been the surge in GBP/USD due to rumors that Brexit is going to be soft.
Today though, GBP/USD has reversed down and has given up nearly 100 pips so far. We bought that pair just above 1.43 because it was finding it hard to break below the 50 SMA which has provided support before on the hourly chart. That has sent EUR/GBP higher, since these two pairs are correlated negatively.
The 100 SMA (green) will likely provide some resistance
EUR/GBP broke above the 50 SMA (yellow) on the H1 chart, so the retrace became official. Although, I am thinking of opening a sell forex signal on this pair. GBP/USD has reached the 20 SMA on the H4 chart and stochastic is becoming oversold, which means that the retrace should be complete soon.
That gave me the first idea that EUR/GBP should reverse down soon. Also, because the H1 chart in EUR/GBP is already overbought. Stochastic is overbought, the 100 SMA is catching up fast and the support/resistance level is standing just above.
The resistance level is not too far from here
But, the H4 chart shows that the 50 SMA (yellow) is also heading down and the buyers might aim that moving average. Anyhow, now the US Session will be over soon so I don't expect much action. By tomorrow morning, the 50 SMA will have reached the resistance level at 0.865-70. That level is about 10 pips higher from the current price. I think I will leave a sell pending order at 0.8670 before going to bed, because that is a long term support & resistance level and I don't think this pair can push much higher than that, unless there is some Brexit news which I can't see any around.