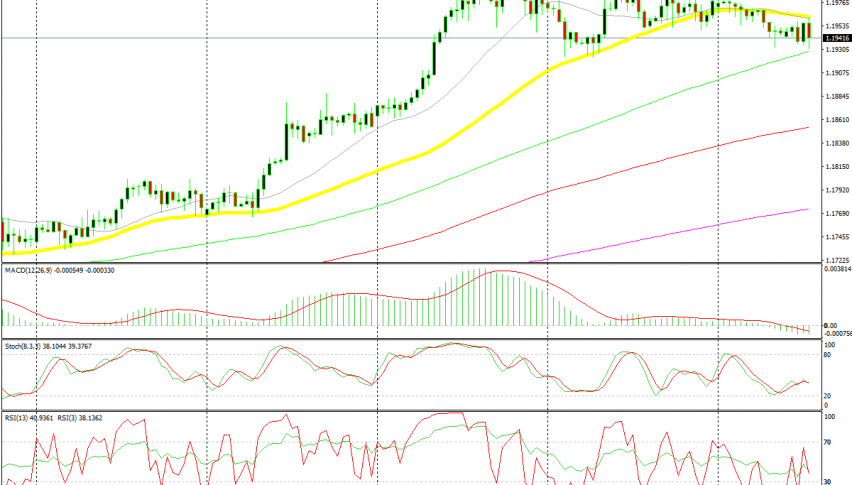 EUR/CHF Playing Games Between Two Moving Averages
Yesterday morning we opened a forex signal in EUR/CHF. This forex pair has been trading on a strong uptrend for more than a year now but has increased even steeper in the last few weeks. EUR/CHF buyers pushed a few pips above the major support and resistance level at 1.20, but retraced lower Friday evening.
It found support on the 50 SMA (yellow) on the H4 chart and it tried the upside again on Monday morning.  Then, this forex pair retraced again to the same moving average and that's when we decided to open this live forex signal, right at the 50 SMA. It had provided support twice, so why shouldn't it for a third time?
It upheld a high price for quite some time, but eventually it has let go. Since then, we have seen this pair trade on a tight range. This range has been defined by the 50 SMA on top, which has now turned into resistance and to 100 SMA (grey) at the bottom which is acting as support.
We bought this forex pair at 1.1950 and now it is trading 10 pips lower. That's not too bad as the trend is still mainly bullish and the 100 SMA is providing solid support. So, we will likely witness a jump off it's average. The decline in the Euro is counter-balancing the weakness in the safe haven currencies such as the JPY and the CHF. Once EUR/USD starts retracing upwards, EUR/CHF should resume the uptrend as well. Let's be patient.