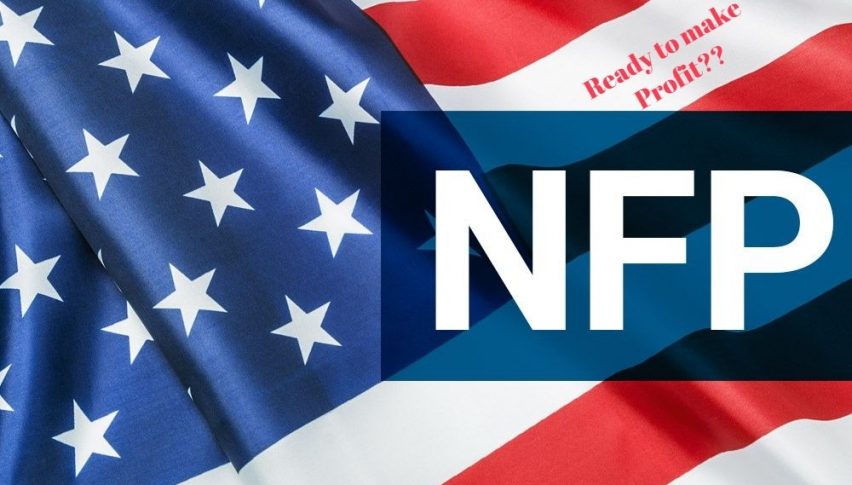 May 4 – U.S. NFP vs. Gold – What to Expect from the Market Today?
So far, this week has been a great success from the trading point of view. Did you miss some of the opportunities? Well, don't worry because the biggest economic event is yet to come. I'm speaking about the US nonfarm payroll. 
Top Events To Watch Today
US Dollar – USD
The NFP (Nonfarm employment change) and the unemployment rate will be closely monitored at 12:30 (GMT). The NFP is expected to be rise by 190K vs. 103K in the previous month. On Wednesday, the ADP figure came out better than the forecast and due to its positive correlation with the NFP, investors are expecting the same behavior from the NFP.
So can we expect the same from NFP today?
It appears that the greenback is less likely to strengthen on the news release (190k forecast) as most of it is already priced in. In fact, investors are expecting a drop in the unemployment rate, from 4.1% to 4%  Disappointment will lead to bearish reversals in the dollar.
Average Hourly Earnings m/m – In addition to the nonfarm payroll and unemployment rate, we need to focus on the average hourly earnings as well. In April, the earnings picked up from 0.1% to 0.3%, signaling a growth in the labor market. However, economists aren't very optimistic about this months report. The figures are expected to drop to 0.2% from 0.3%.
Gold – XAU/USD- Downward Channel  
On Thursday, our forex trading signal on gold closed at take profit, but the market continued with its bullish trend. Perhaps, investors priced in the dovish FOMC statement and investors started taking profits before the release of nonfarm payroll figures.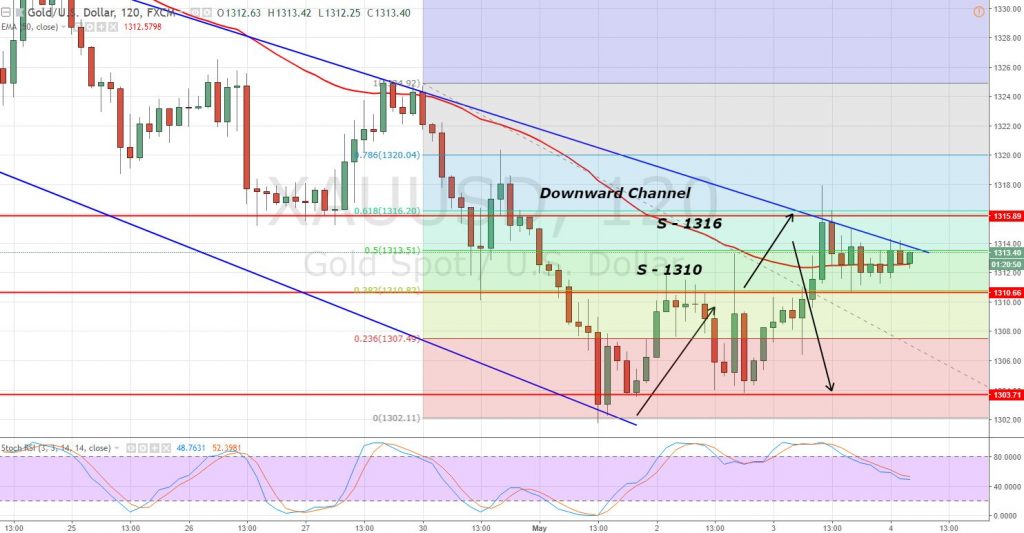 .
Gold – 2 – Hour Chart
For the moment, you can see a tug of war between bulls and bears. The market is likely to trade in the same range of $1,310 – $1,316 until the release of the labor market figures.
Gold – XAU/USD – Trading Levels
Support     Resistance
1308.02    1317.64
1305.04    1320.62
1300.23    1325.43
Key Trading Level:    1312.83
Gold// XAUUSD – Trading Idea
The idea is to trade the breakout, buying above $1,315 could lead the market towards $1,324. Whereas, below $1,310, gold could drop to $1,301. All the best for today and have an awesome weekend!