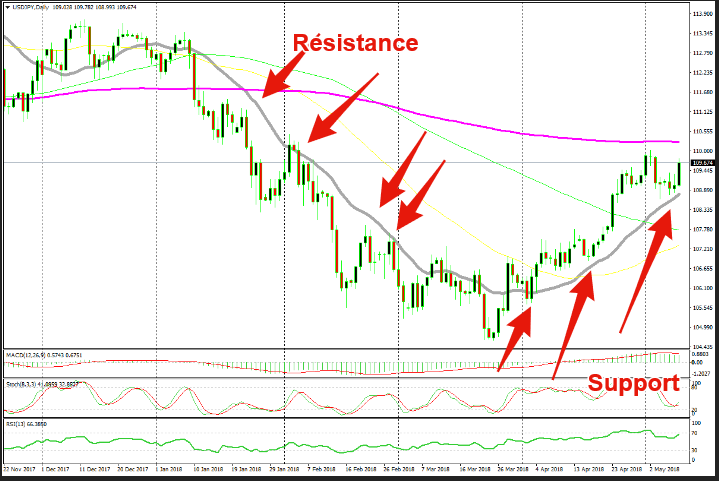 The Uptrend Resumes Again in USD/JPY 
The trend shifted in USD/JPY by the end of March when this pair broke below 105. It was a quick flush of weak stops below the major support level at 105, then the trend reversed. I assume there were many stops just below 105, but hey, it's a cruel business.
Since then, USD/JPY has been edging higher and has formed a decent uptrend. The buyers broke the 20 SMA (green) which was the main technical indicator which was responsible for pushing this pair down when it was in a bearish trend in the first three months of 2018. This was the first sign that the trend was shifting from bearish to bullish.
The 50 SMA (yellow) provided some resistance in the first attempt but it didn't last for long. The buyers pushed it as well to above 100 SMA (green), so there was no doubt that the trend had changed. The 20 SMA now turned into support, as it kept holding the pullbacks and pushing the uptrend higher.
USD/JPY got close to the 200 SMA (purple) on the daily forex chart early last week but formed a doji candlestick right below 110, which is a reversing signal and then reversed lower. That could have been the end of the uptrend which would be followed by a trend reversal. The safe haven currencies received some decent bids yesterday, hence the pullback lower.
But, from what we see now, the trend hasn't reversed. That pullback was just a normal retrace which was what the buyers needed for a refreshing of the uptrend. USD/JPY pulled back lower until it reached the 20 SMA (again). that moving average provided support again and stochastic nearly reached the oversold area, so the pullback was complete.
Today seems like the bullish trend has resumed again with this bullish daily candlestick worth 80 pips so far. Although, the major resistance level at the big round 110 level still looms above our heads and the 200 SMA still stands at 110.20. The buyers have to take them out first for the uptrend to continue. But, this move looks quite strong so I think that USD/JPY bulls will overcome those two obstacles. We're a bit late to get in on this trend with long-term signals, but I will wait for a pullback lower on the H1 chart and then try to open a short-term buy forex signal because the pressure has increased on the upside.