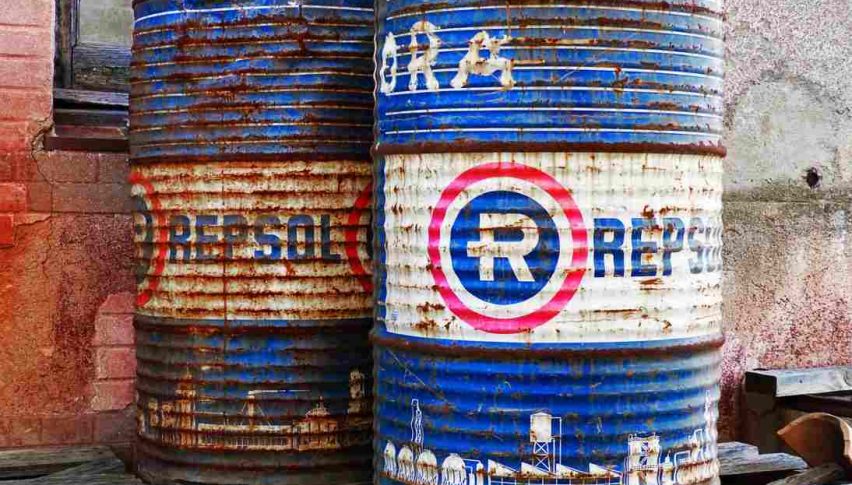 The WTI Crude Oil Inventories Are In, Traded Volumes Large
It has been a banner week for the oil trade. With breaking news out of Iran and the North American travel season kicking off, WTI crude has been consistently catching bids. It appears that $75.00 WTI is a possibility for May.
Inventories
Earlier, the EIA Crude Oil Inventories report came across the newswires. The release completed the first full inventory cycle for May. Here are the hard numbers:
The API Crude Oil Stock report came in at -1.850 million barrels, down from last week's 3.427 million.

The EIA Crude Oil Inventories number came in at -2.197 million barrels, down from last week's 6.218 million.
These numbers represent shrinking supply and are typical of the season. However, given the prevailing global geopolitical situation, we may be looking at a perfect storm in the crude markets. Tensions in Iran, OPEC production cuts, and spiking U.S. demand compliment a long-term bullish view in WTI crude. Add a strengthening dollar to the equation and the stage is set for a bull run in oil.
WTI Crude Oil Technicals
The daily chart illustrates the significance of Tuesday's trading range in June WTI futures.
A few observations concerning the daily timeframe:
The Tuesday session formed a rough Long-Legged Doji candlestick formation.

A Bollinger MP/Daily SMA crossover has occurred.

Traded volumes are huge. Following Tuesday's 1.2 million contracts, Wednesday is on pace to trade upwards of 750,000.
Overview: Picking tops is a brutal sport and one that can devastate a trading account. For now, the technicals and fundamentals are definitively bullish. Any position shorts should be taken with limited leverage and/or moderate profit targets.
In my view, a test of the $75.00 level is on the way, possibly as early as Friday. However, the long-term prognosis is a bit more complex. The futures chain for WTI crude remains inverted. In fact, the May 2020 contract is being priced at $58.00.
It is important to respect the production capabilities of North American fracking operations within the context of an energy-friendly Trump administration.
In the event that oil pricing becomes a drag on the U.S. economy, any number of policy moves may come into play boosting supply and capping short-term energy valuations.