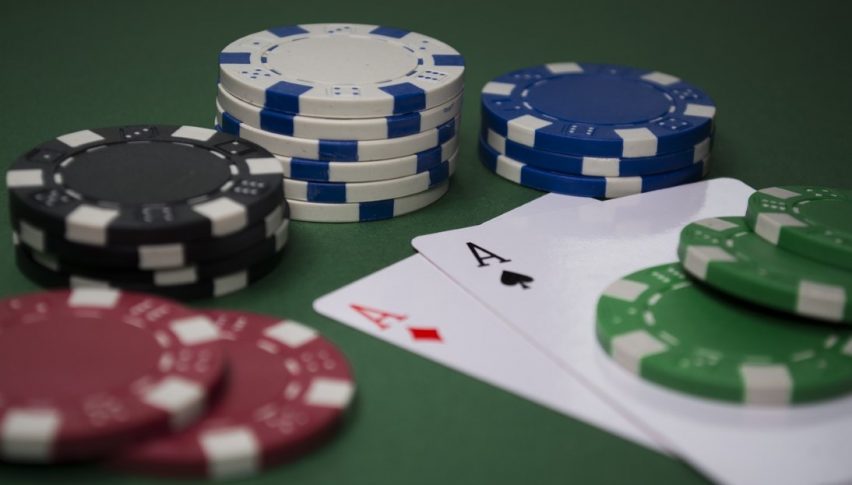 Tight Range For Bitcoin, Legal Sports Betting In U.S.
For the second consecutive day, Bitcoin (BTC) is trading in a consolidation pattern. With price rotating around $8500, BTC traders appear content to take a wait-and-see approach going into the mid-week sessions. Is a big break in this market forthcoming, or are we witnessing a long-term benchmark being established?
There is currently a signal for BTC open to the long. Thus far, the trade is in the green, with price above entry. If you are interested in getting in on the action, check out the available collection of FX Leaders Live Signals.
Cryptocurrency Update
After the rollercoaster of early 2018, cryptocurrency traders must be enjoying the relative calm of the last two sessions. Prices have moved in a measured fashion, not exhibiting any major volatilities.
Sometimes slow markets are a welcome sight. They give us time to prepare and gameplan for the future. Here are the 24-hour metrics facing the big four cryptocurrencies:
Coin                          Price (Approx)      Percentage Move (Approx)
Bitcoin (BTC)                    $8500                           -2.10%
Bitcoin Cash (BCH)         $1380                            -3.5%
Ethereum (ETH)               $720                             -1.0%
Litecoin (LTC)                   $140                             -3.0%
All in all, the last seven days have not been great on the crypto front. Nonetheless, there have not been any high-profile tax busts coming across the news wires to spook investors. The losses of the past week are a simple retracement of April's gains.
Legal Sports Betting In the U.S.?
In a Monday afternoon decision, the U.S. Supreme Court cleared the way for legal sports betting in the U.S., striking down the 1992 sports betting ban. This is a landmark decision that will have a huge impact on the aggregate U.S. and offshore gaming industry.
Overview: Gaming stocks have been on the bull since the announcement led by MGM, Caesars and Boyd Gaming. There is extreme optimism surrounding the decision and potential development of the multi-billion dollar U.S. market.
One somewhat obscure result of this decision is the potential impact upon cryptocurrencies. Cryptos, specifically BTC, have become a popular mode of transfer between international online casino operators and their global clientele. In the event that U.S. players are able to move capital using conventional means, cryptocurrency traded volumes and liquidity may be impacted. This is a fluid situation, and ultimately only time will tell.