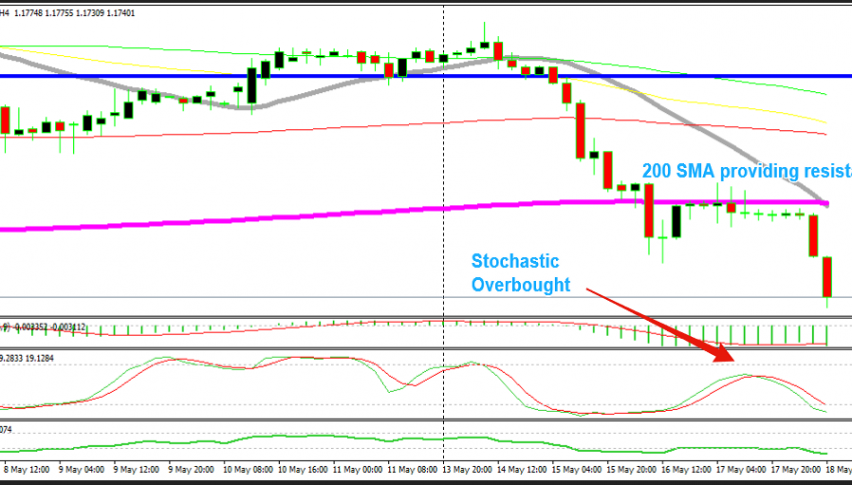 EUR/CHF Commences the Second Leg of the Downtrend As Safe Havens Get A Bid
Yesterday I posted a forex update about EUR/CHF. This forex pair had been on a major uptrend for more than a year. But it seemed as if the uptrend needed a refresh after failing to break the major resistance level at 1.20.
I mentioned in that update that in the first bearish leg, this pair had lost around 200 pips, from 1.1970s to 1.1770s. A retrace had taken place on the H4 chart between Wednesday midday and yesterday when I posted the update about EUR/CHF.
The stochastic indicator was overbought, which meant that the retrace was complete. So, it seemed like the second leg of the downtrend was about to begin, like yesterday's update titled. As you can see from the chart at the top of this article, the price has made countless numbers of doji candlesticks which signal a reversal after the retrace higher.
Well, it seems that we weren't wrong. The reverse happened and the second leg of the downtrend is well underway. So far, this leg has been worth 100 pips, so if you followed our analysis and took this trade, then you should be up 100 pips in profit.
Safe haven currencies received some bids in the last hour as USD/JPY dives 30 pips lower. But the downtrend resumed in the morning for EUR/CHF, so this move is the second leg of the downtrend in EUR/CHF more than just a safe haven run. We couldn't predict the exact time when the bearish move would resume, we are not fortune tellers, but the trade idea was correct.