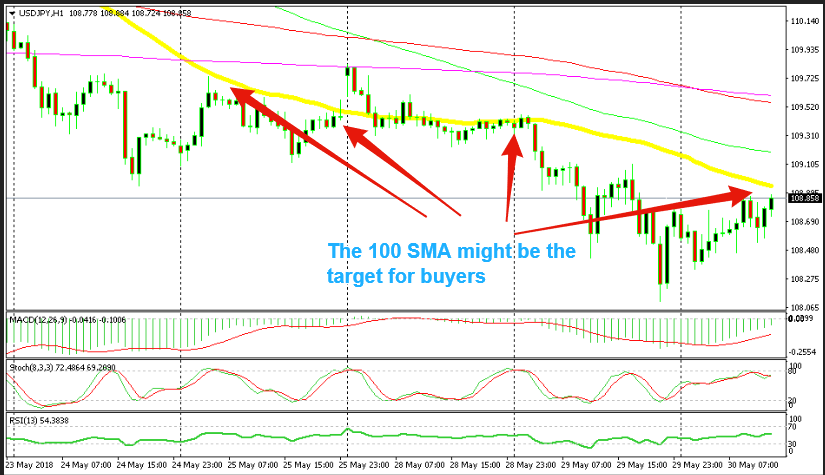 Many Trade Ideas Surface as Markets Grow Tired of Being Grumpy
The market sentiment has been negative recently. This week it deteriorated further as Italian politics became increasingly confusing. Safe haven currencies surged in the last two days, while risk currencies got beaten up pretty badly.
We sold AUD/USD, EUR/USD, GBP/USD and EUR/CHF yesterday. All of these forex signals closed in profit. We also had a few winning signals in commodities and indexes, so yesterday was a good day for forex signals.
Today, the sentiment has improved somewhat. Nothing has really changed, the new government is going to be formed in Italy but from what I'm hearing, this government won't last for long. Italians are calling for new elections which are likely to be held in late August or September when the summer holidays are over.
As we said, yesterday risk currencies tumbled on negative sentiment. Today, the sentiment is not as bad, probably because traders are tired of being grumpy. It is tiring being grumpy all the time. Even prisoners have parties from time to time.
That's what's going on in the markets now. The financial markets are having a small party after battling for days and we are seeing a pullback in most pairs at the moment. This has brought up some interesting chart setups to trade. We already traded GBP/USD and EUR/CHF. They got pretty close to hitting the take profit target but are still live now.
Scanning the charts, I see quite a few trade opportunities at the moment. USD/JPY is getting pretty close to the 50 SMA (yellow) on the H1 chart. This moving average has been providing solid resistance lately together with the 100 SMA (green). Now we are pretty close to the 50 SMA and stochastic is overbought, so this is one trade idea to keep in mind.
The H1 chart setup looks good for a sell signal in AUD/USD
USD/CAD has been very bullish recently and yesterday it reached 1.3040s. Today, this forex pair is retracing lower but Oil is not moving higher, which would justify this move. So, this is another trade opportunity for buyers. As I mentioned, we have a few open forex signals but might make use of these opportunities, so hang around for more forex signals.