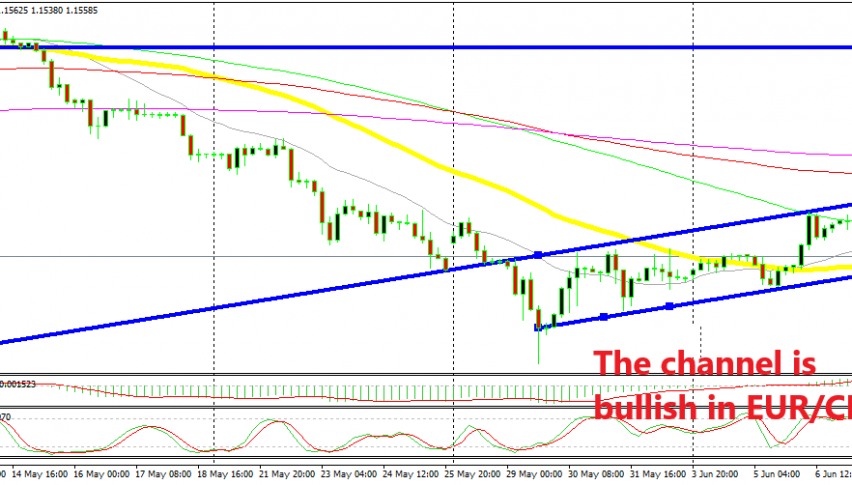 Trying A Long Trade on EUR/CHF
EUR/CHF has been on a strong downtrend last month. It failed to break the major level at 1.20 about a month ago and since then it turned heavily bearish. Last week though, the downtrend came to an end, at least for the time being.
We spotted a nice chart setup for a long trade a while ago so we decided to take it. As you can see from the H4 chart, this pair has formed a bullish channel in the last 7-8 trading days. When we opened our buy forex signal less than an hour ago, when the price was trading at the bottom of this ascending channel.
Looking at the indicators at the bottom of the chart window, we see that stochastic is oversold. This means that the downward move which started yesterday is over. Since the recent trend is up, that move is more of a pullback lower before the next assault on the top side. So according to the stochastic, we are on the right side here. Safe havens are still in demand, but this pair has been climbing nonetheless.
Besides these two indicators, we also have the 50 SMA (yellow) on our side. The 50 SMA hasn't been involved during the downtrend last month. The 20 SMA (grey) took its place providing resistance since the trend was very strong. But now that the trend has changed, the 50 SMA is back in the game providing support to this pair.
Based on these three technical indicators we decided to buy EUR/CHF. We bought when this forex pair was trading at 1.1545, while the price is more than 10 pips higher now. So, our trade looks like it is going in the right direction.