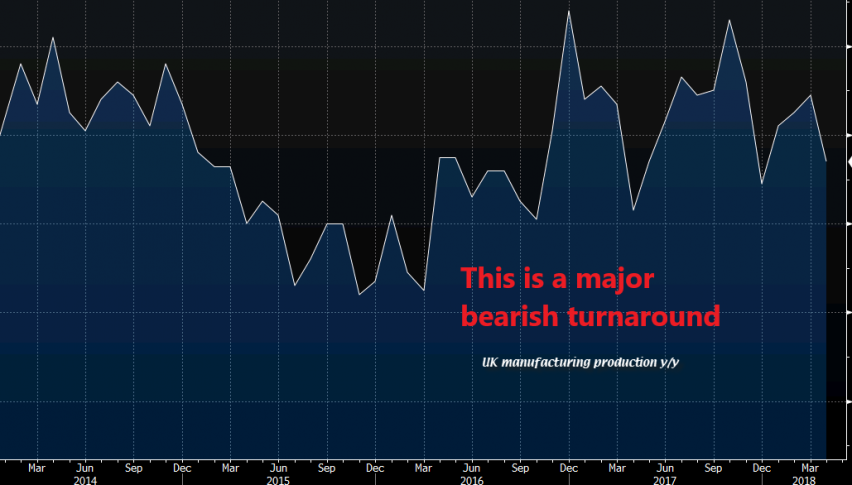 Horrible UK Manufacturing Numbers Send GBP Diving
The UK manufacturing report was expected to be positive today. The economic data from Britain has turned positive in the last two weeks and another positive manufacturing report today would make sense since it would follow a series of positive economic reports.
But instead of continuing the positive trend of the last few weeks, the manufacturing report turned extremely negative. Manufacturing used to be pretty steady until a few months ago, but it started contracting in April. The contraction continued in May but no one was expecting such bad numbers this month.
April and may came at -0.2% and -0.1% respectively. This month, the manufacturing production declined by 1.4%, which is a massive pullback for this sector. While this is not the most important sector of the British economy, the report is really negative, which bring us two weeks back when the UK economy looked doomed and the GBP was diving hard.
So, the manufacturing production came at -1.4% month/month. The yearly number was slashed in half, from 2.9% previously to 1.4% this time. The industrial production fell too by 0.8%. Construction output was expected at 2.0% but came at 0.5% for the month and at -3.3% for the year.
It is a really bad report overall and the GBP is taking a dive. GBP/USD is trading 60-70 pips lower now. But the decline has stalled for the moment. Tomorrow we have the average earnings index and on Wednesday the CPI inflation report will be published. The market looks cautious ahead of two major data releases so I don't expect too much action on GBP/USD as the day progresses, unless the move comes from the USD side or another Brexit event comes up.