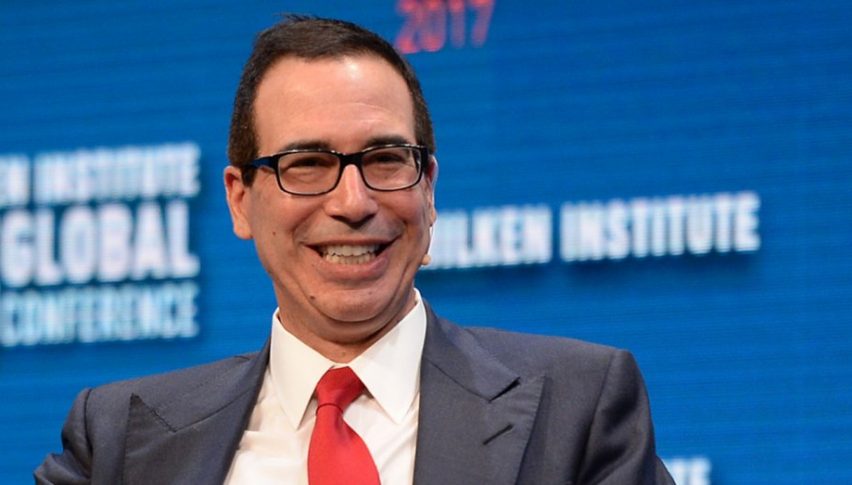 US Commerce Secretary Mnuchin Is Expecting $ Trillions to Shore Up to the US
A while ago we heard from a report that Donald Trump is planning to leave the World Trade Organisation on behalf of the US. Although, the US Commerce Secretary Mnuchin said that those comments were an exaggeration. Hmm, to me it sounds exactly like Trump. Perhaps Mnuchin is trying to bring it up the easy way so the markets don't get too choked by it.
Anyway, Mnuchin continued further. He said that hundreds of billions and trillions of US Dollars are coming back to the US. The US is seeing the impact of tax cuts and regulatory changes and that Trump won't do anything on trade to wipe out tax benefits and hurt growth.
He is right about the benefits that US citizens are seeing after tax cuts and regulatory changes. The personal income has increased in the last year or so. But, I'm afraid it will get a lot worse if Trump messes with global trade.
Well, looking at the latest economic figures from the US which were just released, we see that income increased by 0.4% against 0.2% previously. So, tax cuts are having a positive impact and everyone likes that. Although, personal spending missed expectations and it got back to the 0.2% level which is the lowest this year.
To me, all the measures that Trump has recently taken on international trade point to the US leaving the WTO. It is also very likely that it doesn't happen because it has to go through Congress first. But that would be the battle horse for Trump's next campaign, wouldn't it? He will go about shouting that the world is pushing the US around and that he needs to be elected again just for national security reasons. That's Trump's only goal I reckon.