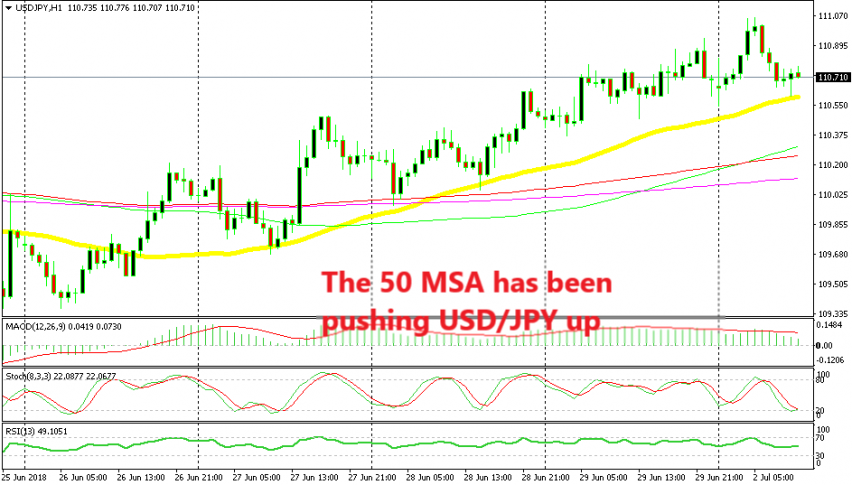 Going Long on USD/JPY During This Nice Uptrend
What is the best way to trade a forex pair? The best way is going with the trend when there is a clear trend. How do we define trends? We do that using trendlines or moving averages. I prefer moving averages since they are not as strict as trendlines. Forex is not an exact science, so dynamic indicators work a little better than static ones.
USD/JPY has formed a nice uptrend last week and it seems like it is continuing with the same idea in mind this week. The 50 SMA (yellow) has defined the trend. The 50 SMA was providing resistance before the uptrend started early last week. Now, it has turned into solid support.
The 50 SMA has been pushing this pair higher and this morning USD/JPY and the 50 SMA met again. The moving average did its job again providing support, but we wanted another confirmation before going long.
The confirmation came from stochastic and the candlestick pattern. The stochastic just became oversold, which implies that the pullback is complete. Besides that, the previous H1 candlestick closed as a hammer which is a reversing signal. The price was pulling back lower earlier this morning, so the reverse was supposed to be bullish, which is already underway.
Fundamentally, the elevated trade war should support the JPY which means that this pair should be bearish. But, the market is getting used to it. So, until we see the next trade battle coming up via Donald Trump's tweets, we will remain long on USD/JPY.