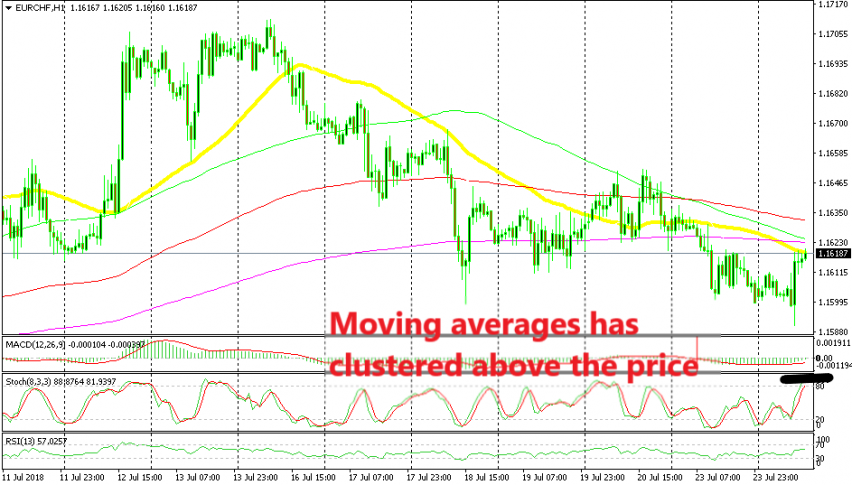 Going Along With Safe-Haven Currencies
Safe-haven currencies have been finding some decent bids lately as trade war rhetoric goes viral. I intentionally didn't just put "Safe-Havens" on the topic because Gold has gone the opposite way of safe-haven currencies and has lost considerable ground in the last few months.
The JPY and the CHF, on the other hand, have made respectable gains. USD/JPY lost around 250 pips at the end of last week, while EUR/CHF has been trading on a strong downtrend since early May. Despite the recent resilience in the Euro, EUR/CHF has still kept the downtrend in place.
Although, in the last few hours, EUR/CHF has been climbing higher, but I only see this as a retrace of the bigger downtrend. You can see that there have been quite a few pullbacks during the last wave of the downtrend which started on Monday last week. That's how trends unfold.
EUR/CHF has climbed around 40 pips this morning and it has reached the 50 SMA (yellow) which has provided support and resistance before. Only a few pips above that, we can find the 100 SMA (green), which would be another obstacle for EUR/CHF buyers. That moving average is just about to meet the 200 SMA (purple), so the resistance up there will be even stronger.
We already sold this forex pair at the 50 SMA. The stochastic indicator is overbought, which means that the retrace up is complete. Besides, the last two hourly candlesticks formed two dojis which are reversing signals after a retrace. So, we have several technical indicators pointing down here, so we are confident on this trade, despite the latest pop higher in the Euro.