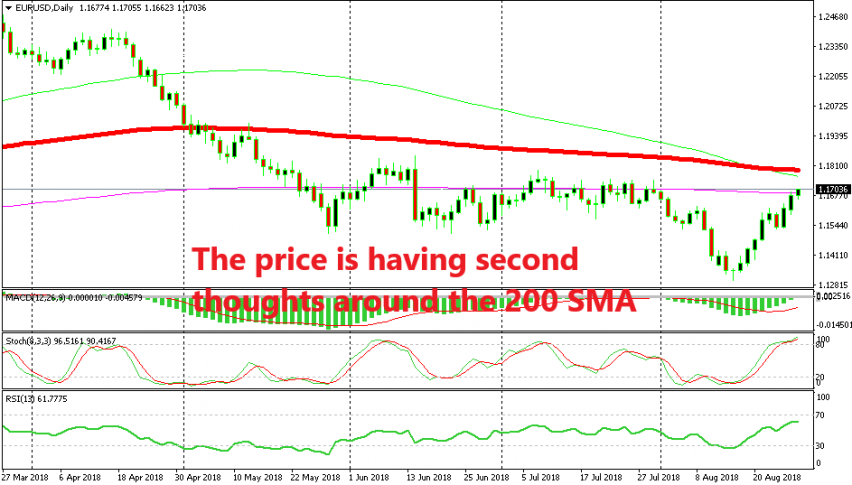 Getting Ready for A Long Term Sell Signal in EUR/USD
EUR/USD has made quite a turnaround and a recovery since touching the bottom at 1.13 about two weeks ago. The sign for the reverse was pretty clear when the price formed a doji/pin on the daily chart, which is a reversing signal. But, the downtrend was quite strong and the USD index had broken above the resistance at 95, so we couldn't go against the trend.
But, we are thinking of selling this forex pair now that it has made a pullback higher. The bigger trend is still bearish, although the retrace higher might be coming to an end soon. The reason for the turnaround was Donald Trump's comments that he doesn't agree with the FED hiking interest rates. The FED made it clear in the following days that they only follow the economy and no one else can affect their monetary policy, which includes Trump, but the damage has already been done for the Dollar.
The USD Index has reversed lower and has broken below the prior resistance which was supposed to turn into support now. But, that level didn't do nothing and the index pierced it like a knife through butter.
But, the retrace might be coming to an end soon as we said. The stochastic indicator is well overbought on the daily chart and the price is trading around the 200 SMA (purple). The price hasn't exactly respected this moving average to the pip, but EUR/USD turned bearish last month around this moving average. Although, we might see the price climb a bit higher to 1.1790-1.18 which is where we find the 100 SMA (red). That area was the high last month as well.
The 100 SMA is waiting to provide resistance a bit higher
If we switch to the weekly EUR/USD chart, we see that the same moving average has been providing support and resistance before. It stands at 1.1740 but the price has pierced it many times before, so it is likely that it does so again and reaches the 1.1790 area where it might reverse.
So, I will wait to see if EUR/USD reaches that far up which is not too far by the way. Perhaps by that time, the stochastic indicator will be overbought as well on the weekly chart, which would be another great signal to short this pair. The FED is expected to hike interest rates next month so the fundamentals favour the sellers, but Trump is just hiding behind the curtain so we will keep an eye on him as well.