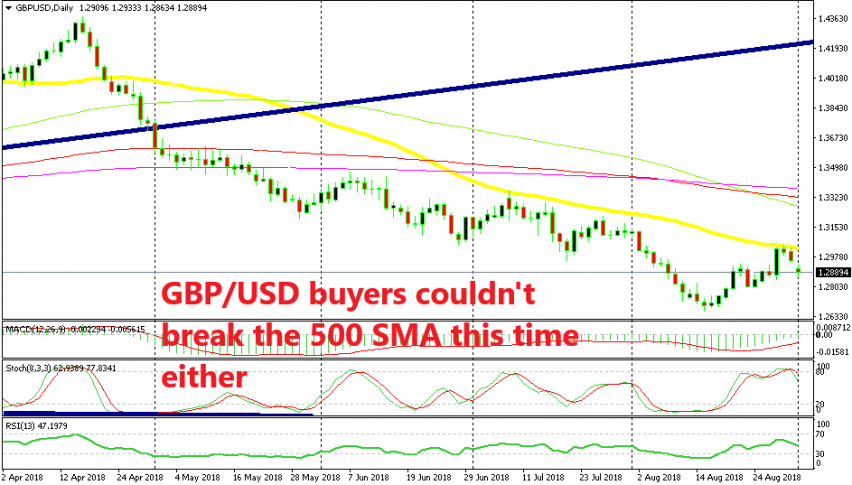 GBP/USD Makes Yet Another Bearish Turnaround at the 50 SMA
In the previous two weeks, GBP/USD was retracing higher as the USD was losing considerable ground. At first, it looked like another retrace on this major bearish trend as you can see from the daily forex chart above. But, on Wednesday last week we heard the EU's chief Brexit negotiator Michel Barnier say that the EU is willing to give the UK a deal unlike any other third country.
That gave the GBP a boost and it closed the day around 200 pips higher. GBP/USD reached the 50 SMA which has been the ultimate resistance in the last two months and where this pair has turned bearish previously.
But this time was different. This was a major fundamental event for the GBP. If a deal was to be reached by the EU and UK on Brexit, then the GBP would begin a major bullish trend. So, we decided to stay on the sidelines since this would be a major shift in fundamentals.
But, the technicals prevailed once again. The 50 SMA held once more and the price reversed back down. The stochastic indicator was overbought on the daily chart and Thursday's candlestick formed a morning star, both of which are reversing signals.
But the fundamentals were scary for GBP sellers back then so we stayed out. As it has happened many other times with Brexit, other European and EU leaders made the same comments that we've been hearing these past two years and that threw cold water on a good Brexit deal any time soon or anytime at all. As a result, GBP/USD has turned bearish again and it is around 150 pips lower now. I think it will continue to slide lower for a few more sessions.