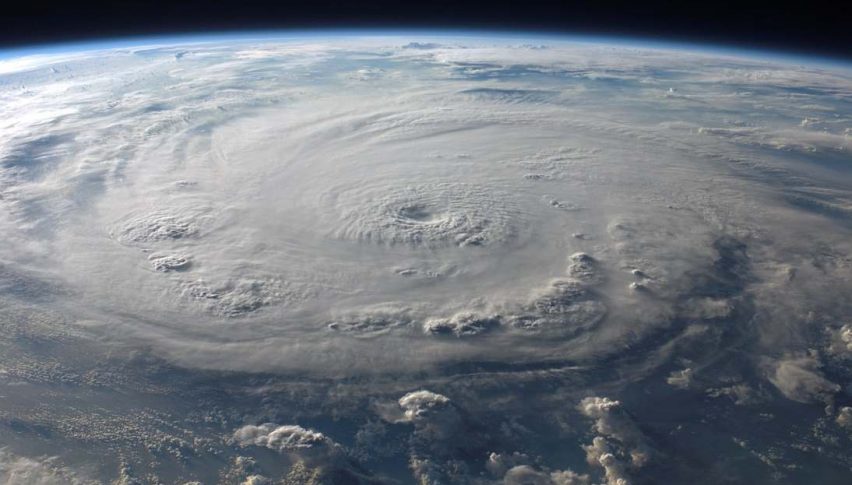 U.S. Indices Up As Hurricane Florence Bears Down
Posted Thursday, September 13, 2018 by
Shain Vernier
• 2 min read
The media coverage over the past several days in the U.S. has revolved around superstorm Florence. A mammoth-sized tempest, Florence is projected to make landfall in the next 24 hours as a category-2 hurricane. This is a big downgrade from the category-4 designation assigned only one day ago. For now, traders are not giving much credence to potential fall out, choosing to be long the U.S. indices.
Action on Wall Street has been bullish through today's open. For the first 90 minutes of trade, the DJIA is up 100 points and the S&P 500 ten. Leading equities futures products the E-mini S&P 500 and E-mini DOW are both rolling over from the September to December contract. Split volumes are in full effect, with today likely being the last for September issues.
Trading Florence: September E-mini DOW Futures
Even though wind speeds of hurricane Florence are waning, the storm-surge is expected to devastate areas of the East Coast. Fallout is unpredictable but should be much less than that of last year's Harvey. The U.S. equities markets agree with this notion. The September E-mini DOW posted fresh all-time highs earlier in the session.
26,000 has been the primary catalyst in this market for the last 11 sessions. It is a clear area of fair value and one that may stay relevant after rollover to the December E-mini DOW becomes complete.
Overview: The summertime theme for the E-mini DOW and DJIA has been "there are buyers in the weeds!" On every concerted pullback, buyers have stepped in and defended support levels before driving values to new highs. We saw an example of this just two sessions ago with a quick rejection of the daily Bollinger MP and subsequent rally.
The question remains whether or not these markets can continue such a bullish trajectory. Hurricane Florence is highly unlikely to derail the rally, but the outcome of November's U.S. Midterm elections might. Beginning with the September FED meeting in just under two weeks, we may be headed into a new cycle for the U.S. indices.