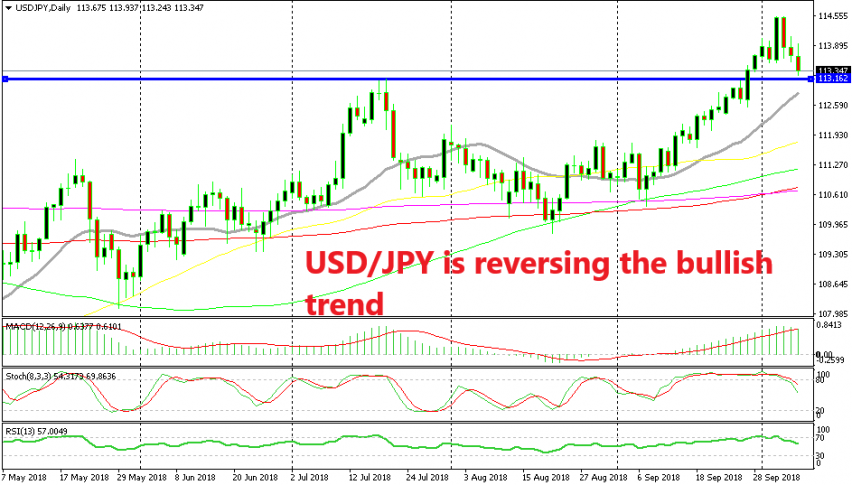 USD/JPY Turns Bearish as Market Sentiment Turns Negative
USD/JPY has been totally bullish during the entire month of September. It climbed from 110 lows early last month to 114.50s early this month. But, it might be turning bearish now as the market sentiment turns negative.
The reason for this turnaround in the market sentiment is the approaching EU summit which will start next Wednesday. Here are a few issues which will be discussed in that meeting, but the main ones which require an immediate solution are the Brexit issue and the Italian Budget.
This will be the last EU summit for this year, which means that there is no other meeting to vote for an EU-UK Brexit deal if no agreement is reached by then. Then we have the budget of Italy for 2019 which will need to be approved by the EU.
Although, European leaders and EU officials have commented negatively on the Italian budget draft. So, both issues point to a dead end, hence the negative sentiment in financial markets recently and especially today. I expect the sentiment to get worse as the summit approaches.
Stock markets are falling relentlessly today and there is some good demand for the JPY which is a safe haven currency. USD/JPY is sliding lower and it has lost more than 100 pips since peaking out last Thursday. But, there is a resistance level at 113.15 which is turning into support now.
The 20 SMA (grey) is also catching up with the price so it will add some additional support to it. We might go long from there with a short term signal trying to get some pips from the initial bounce, but if the sentiment continues like this, then I expect USD/JPY to continue retracing further down.