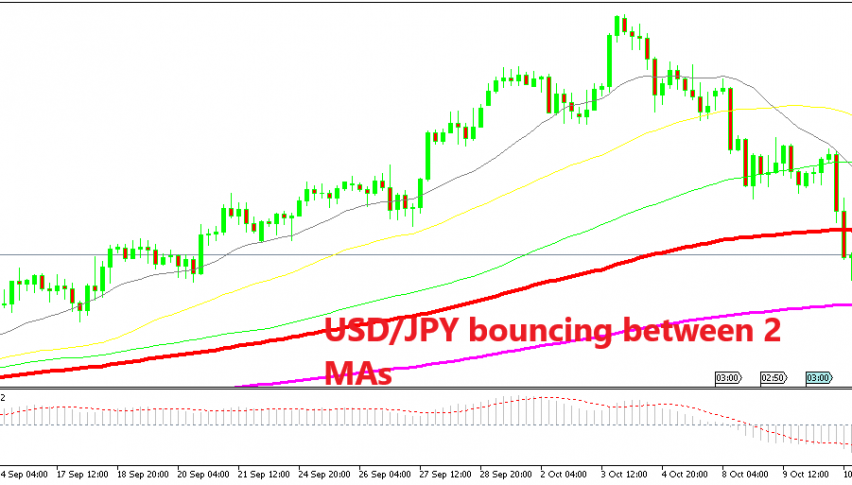 Shorting USD/JPY at the Top of the Range
The trend has changed for USD/JPY since late last week. The market sentiment turned negative on Italian budget worries and on failure to reach a Brexit deal as the last official EU summit for the year approaches and as a result, safe haven currencies have attracted strong bids as traders look for safety in an uncertain environment.
So, the trend has shifted to bearish for USD/JPY and it has lost more than 250 pips from top to bottom. It bottomed out yesterday though as this forex pair reached the 200 SMA (purple). Since then, we have seen USD/JPY retrace higher but another moving average is capping the retrace from above.
That moving average is the 100 SMA (red) where we decided to go short. In fact, more than a retrace, this move is part of a consolidation that has taken place since Wednesday. The price has been bouncing up and down since then between the 200 SMA at the bottom and the 100 SMA at the top.
Yesterday we had a chance to sell this pair at the top of the range when the price failed to break the 100 SMA. Today, the picture seems better for sellers since the stochastic indicator is almost overbought.
The 50 SMA is pushing USD/JPY lower
If we switch to the H1 chart, we see that today the 50 SMA (yellow) has caught up with the price and it is providing resistance, despite being pierced briefly. Stochastic was overbought by that time and it is now heading lower after it turned bearish, so there are many technical indicators which point down for this pair. Fundamentals are also bearish since the sentiment is still negative, that's why we decided to go short on USD/JPY.