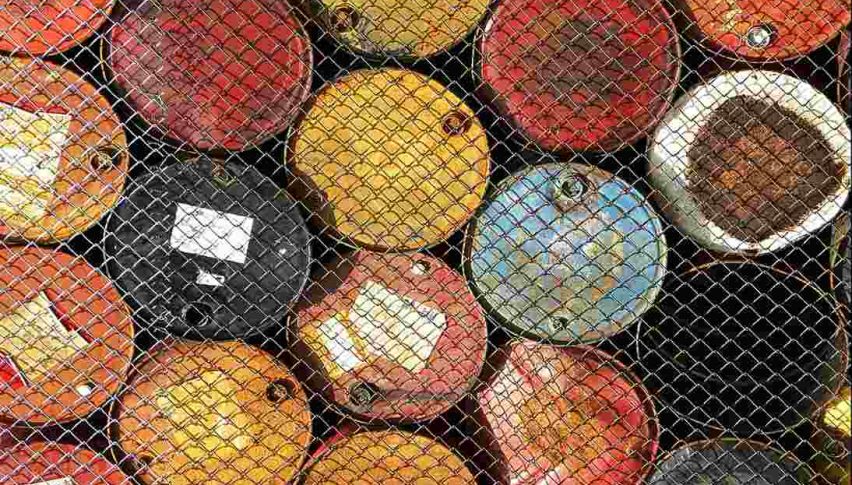 WTI Trades Beneath $70.00 Following EIA Inventories
The weekly crude oil inventories cycle is complete and November WTI futures are on the bear. Prices have fallen out of bed, prompting a test of the $70.00 level. Rollover is diluting volumes between the November and December contracts. At press time, traders prefer the November contract 3/2 over December. Rollover to the December contract should be completed by Friday.
Oil Inventories
The inventories statistics are in and it appears that seasonality is beginning to figure into the equation ― at least for the EIA report. For the week, statistics came in mixed:
Event                                   Previous      Projected    Actual
API Crude Oil Stocks            9.75M             NA            -2.10M
EIA Crude Oil Stocks           5.987M         -0.281M      6.490M
While the API report came in well below last week's figure, the EIA statistics showed a strong build in supply. Remember that the EIA report receives more attention than the API and acts as a primary market driver for WTI. Today's numbers sent sellers to their screens in mass.
WTI Crude Oil Technicals
After failing to gain steam above the daily 38% Current Wave Retracement ($72.33, not pictured), November WTI futures have posted a trend day down.
Overview: For the moment, it appears that the media buzz over journalist Jamal Khashoggi's disappearance has died down a bit. Calls for the U.S. to sanction Saudi Arabia are coming from Congress, but will likely be distant memories by this time next week.
The 5000-pound elephant in the room is the $70.00 level. On the EIA release, traders sent November WTI plummeting, posting a session low of $69.63. Price quickly rebounded north of $70.00.
The $70.00 area has the potential to stimulate heavy two-way action and prolonged consolidation. Of course, we will be looking at the December WTI contract very soon. At press time, December WTI is trading in the neighborhood of $70.00. The November/December spread is a meager 6 cents. As far as contract spreads go, this is a tight one!