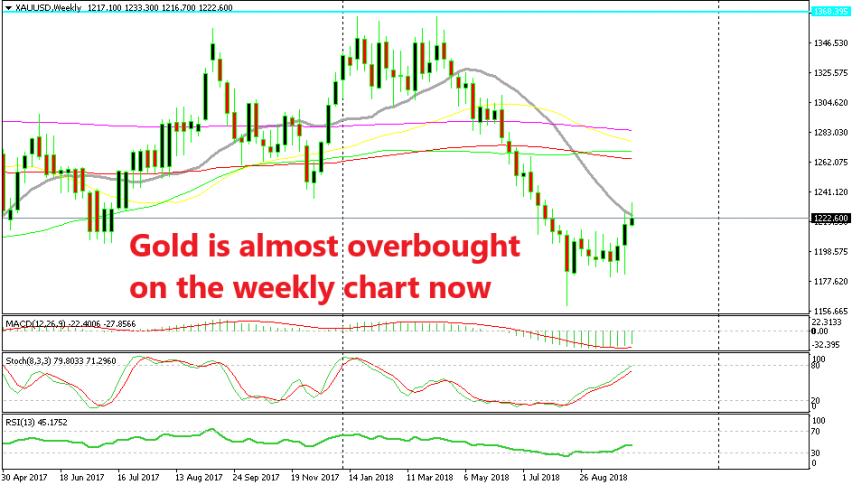 Is the Retrace Over for Gold Before the Bearish Trend Resumes?
Gold finally made a much-needed retrace after being in a strong downtrend for many months. Gold XAU lost more than $200 from top to bottom during the decline, so a refresh was long overdue since trends don't go on forever without a refresh now and again.
So, Gold made a retrace higher in the last two months and has climbed more than $80 higher. The main reason for this pullback beside the technical picture, has been the deteriorating sentiment in financial markets, as we have often explained lately. But, the retrace might be coming to an end now.
Looking at the daily chart above, we see that the price broke above the 50 SMA (yellow) last Monday. This moving average has been providing resistance for about a month after the 20 SMA (grey) was broken in August.
When trends are in full force, the smaller period moving averages are in controls, hence the 20 SMA pushing the trend down at first, then the 50 SMA taking its place. When trends loses pace, the larger moving averages come into play.
So, we saw the slowing trend in the last two months as the 20 and 50 SMAs were broken. But now, the price is at the 100 SMA (green) and it is finding some strong resistance at this moving average. The stochastic indicator is overbought now and the last two daily candlesticks formed two upside-down hammers, all of which are bearish reversal signals.
The 20 SMA is providing solid resistance
According to that chart, we should see Gold resume the downtrend now. But let's see what the weekly chart looks like. On this timeframe chart, we have the 200 SMA (grey) providing resistance at the top. It provided resistance last week and it held its ground this week as well, as the price returned back below it after piercing it for a moment.
The stochastic indicator is almost oversold on the weekly Gold chart. This means that the retrace is almost compete on the weekly chart too. So, Gold should resume the downtrend now, but the fundamentals are a bit mixed up. I think that we will have to wait until this week is over and see how Brexit and the Italian budget issues will evolve. If the market doesn't seem too upset by the outcome after this week's EU summit, then we might see Gold resume the bearish trend next week. So, let's leave the decision for next week, after all, this is a long term technical analysis.