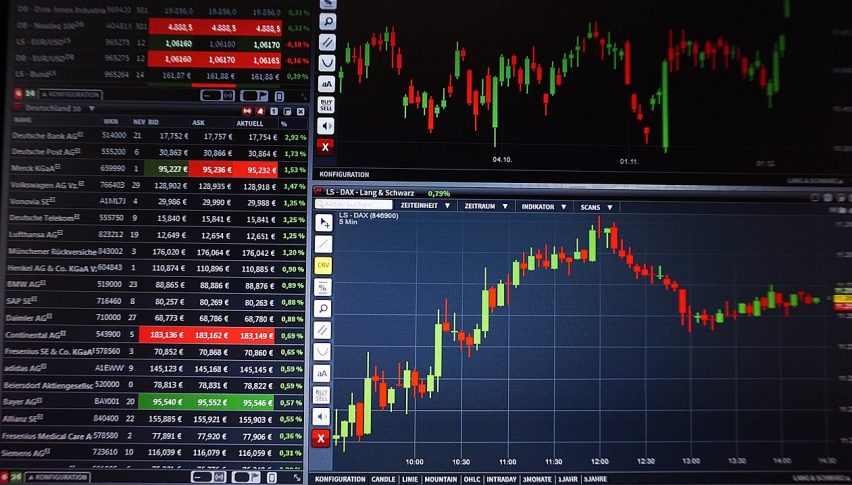 U.S. Stocks Continue To Fall Post-FOMC Minutes
U.S. stocks opened trade on Wall Street in the red. Both indices are down on the early U.S. session, led by a 125 point sell-off in the DJIA. Equities bulls are showing signs of fatigue in the wake of Wednesday's FOMC Minutes release.
Long-term gradual tightening and the introduction of "restrictive" monetary policy have traders wondering if the hammer is soon to drop on U.S. stocks. Recent volatility in the U.S. indices has been extreme ― is the end of the "Trump Rally" near?
A Macro Look At U.S. Stocks
It is becoming redundant, but picking tops in the DJIA and S&P 500 has been an expensive hobby for reversal traders throughout 2018. Just when these markets appear to be on the ropes, they bounce back with a vengeance.
Above is a look at the weekly chart for the DJIA on the close of the Wednesday session. There are a few technicals that jump off of the screen, worthy of note:
Price remains above the key level of 25,000.

Key support levels are present at 25000, 24997, 24722, and 24138. Accordingly, the area of 25000 – 24000 is going to be a hot battleground if tested.

Last week's huge sell-off did not eclipse the 62% Retracement of 2018's range (24722). While technically no longer a breakaway

uptrend

, the long-term bullish bias is valid.

A clear-cut yearly double top pattern is set up between 26616 and 26951.
Given these technicals, which direction are U.S. stocks heading? Up or down?
Overview
There are two factors that will determine the ultimate direction of U.S. stocks for the next 18 months: FED policy and the coming U.S. Midterm Elections.
At the moment, FED policy is on the path to aggressive tightening as illustrated by yesterday's FOMC Minutes. The outcome of the Midterm Elections is not as clear-cut. I often refer to current betting odds as a more accurate barometer of expected outcomes than polling data. Here is where the U.S. Midterms stand according to some of the betting industry's leading oddsmakers:
Republicans are projected to have an 84.8% chance of retaining control of the U.S. Senate.

Democrats have a 66.7% chance of winning control of the U.S. House of Representatives

Senate races in Arizona and Florida are the tightest, near 50/50.
At the end of the day, a Republican majority will be viewed as a positive for the U.S. indices. President Trump has alluded to plans for future tax cuts, as well as a reduction in government regulation. A Republican Senate is likely to back these plans, boosting market sentiment in the process.
On the flip side, Democrats have gone on record wanting to roll back last year's tax reform bill and enact further regulations on the commercial banking industry. Don't forget about impeachment proceedings, another likely cornerstone of the Democrat agenda. These items will bring equities bears out of hibernation in huge numbers.
All in all, the coming Midterm election will be a big deal for U.S. stocks. For active traders, there will be some great volatility and many opportunities. Buckle up and get ready for an exciting month on the markets.