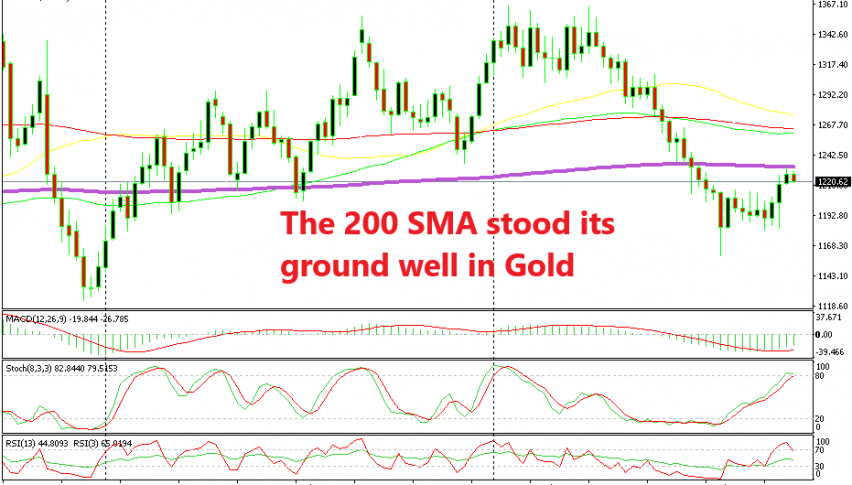 Gold Turns Bearish After Failing to Break Past the 200 SMA
Last week I posted a forex update on Gold XAU. Gold made a major bullish move two weeks ago as the worries about Italy leaving the Eurozone and Britain ending up with no Brexit deal hurt the market sentiment.  As a result, Gold jumped $50 higher that week.
At first, it seemed like the major bearish trend which started in spring this year had come to an end and a bullish reversal was about to begin. But, the 200 SMA (purple) was just standing above the actual price in the weekly chart and Gold stopped right below it.
Last week, Gold buyers made a few attempts to push above the 200 SMA but you could see that they didn't really mean it because they never took the price above that moving average. They were just waiting for an excuse to reverse their trades to bearish.
Today they received two excuses to bail out from their buy positions. Brexit is heading towards a no-deal scenario and the Italians are going ahead with the budget plan for a 2.4% deficit for next year.
As a result, the market sentiment has turned negative again and Gold buyers are packing their bags. Gold has lost around $10 from top to bottom today. It seems that the 200 SMA won this time and now the picture looks really bearish since stochastic is overbought and heading down.
This looks like a good opportunity to open a long term sell signal in gold. The stop would be above the 200 SMA and the take profit target could be right above the previous lows. The risk/reward ratio seems pretty good so we might go ahead and sell Gold around here, although, it will be a bumpy ride.