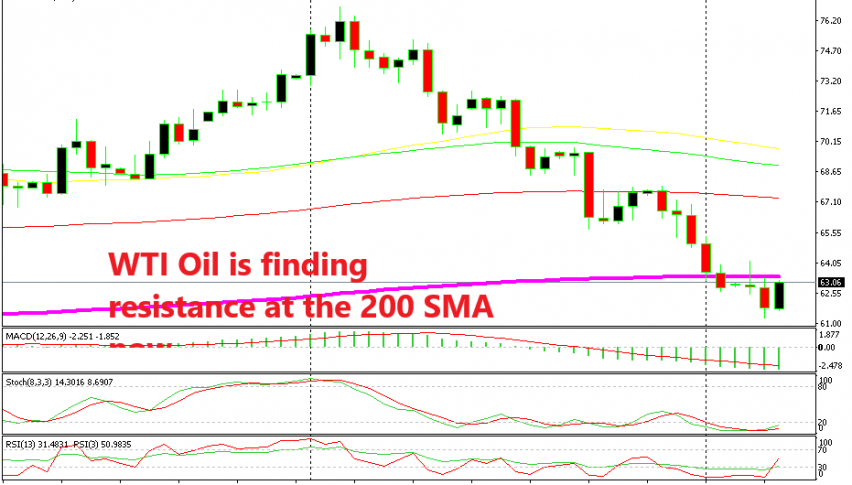 Oil Jumps Higher As Saudis and Russians Discuss Production Cuts
WTI Crude Oil has been climbing higher on a bullish trend for more than two years. That continued until the beginning of last month. Then, the buyers failed to break the 100 SMA on the monthly chart and the uptrend ended.
So, for a month we have seen Oil prices decline constantly. Another reason for this was talk of production increase, such as new production investments being planned in Iraq, which would increase the output and make up for some of Iran's Oil. Even Iran's Oil will find markets after US sanctions, such as the Chinese market.
The comments from the Iraqi Oil minister yesterday to increase production capacity sent Oil prices $2 lower from top to bottom. So, Oil reached the 100 SMA on the weekly and the monthly chart yesterday where it found some form of support.
Today, the Russian media agency TASS reported that both countries are discussing cutting Oil production. That was all there was in that report, but that was all Oil traders needed and Oil jumped more than $1 higher.
Although, it found some resistance at the 100 SMA on the H1 chart. On the daily chart, Oil prices found resistance at the 200 SMA (purple), so it seems like this moving average has turned into resistance now. We can see form the daily chart that the 100 Simple MA (green) turned into resistance after being broken, then it was the turn for the 100 smooth MA (red) to turn into resistance.
Now it is the 200 SMA which is providing resistance. We are not sure that the price will turn bearish again at the 200 SMA now, but that is what the chart history is telling us and the downtrend is pretty strong, so this might be a good chance to go short on WTI Oil.