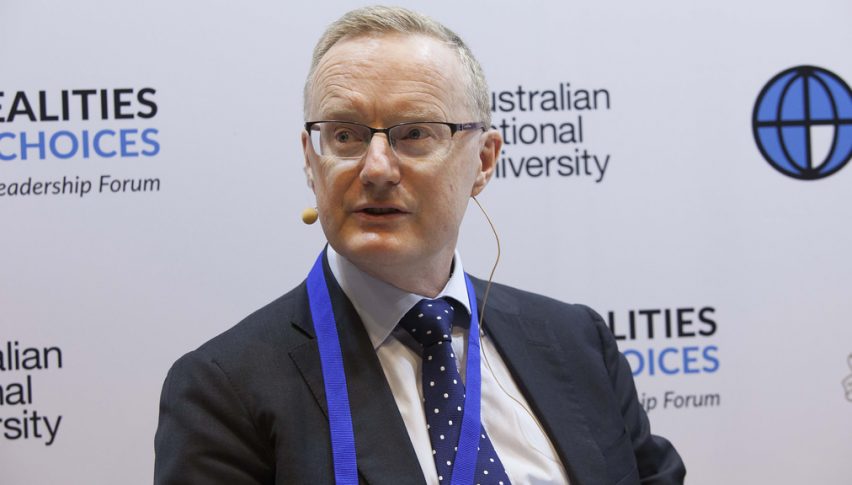 AUD/USD Slightly Higher this Morning after Lowe's Speech, but Moving Averages Don't Let Go
The Chief of the Reserve Bank of Australia was live until a few moments ago. We covered his speech live on our forex calendar section if you want to go and see the live updates of his speech. He sounded sort of optimistic, but not that hawkish about the monetary policy in the short term that forex traders are more interested in. Below are a few pointers of his main comments:
Housing Market – The RBA is watching the recent decline in house prices closely. Although, this comes after house prices have been increasing rapidly for quite some time, especially in Melbourne and Sydney. It is a correction which comes amid favourable economic background.
The economic picture is positive and Australia is close to full employment. Although, wages have been stagnant for the last six years.
The RBA will start hiking interest rates at some point, although it will keep a steady monetary policy for some time yet.
So, employment is near full capacity but wages aren't growing as they should. House prices are declining, but that comes after a period of rapid increase. RBA will hike interest rates, but not in the foreseeable future. Sort of hawkish, but not hawkish enough.
We decided to trade the range between the two MAs today
AUD/USD moved higher during Lowe's comments after it bounced off the 100 SMA (green). But, the comments weren't hawkish enough and the buyers couldn't take out the 50 SMA (yellow) on the H1 chart.
The price formed an upside-down pin candlestick which is a reversing signal, so we decided to go short on this pair now with a stop above the 50 SMA.