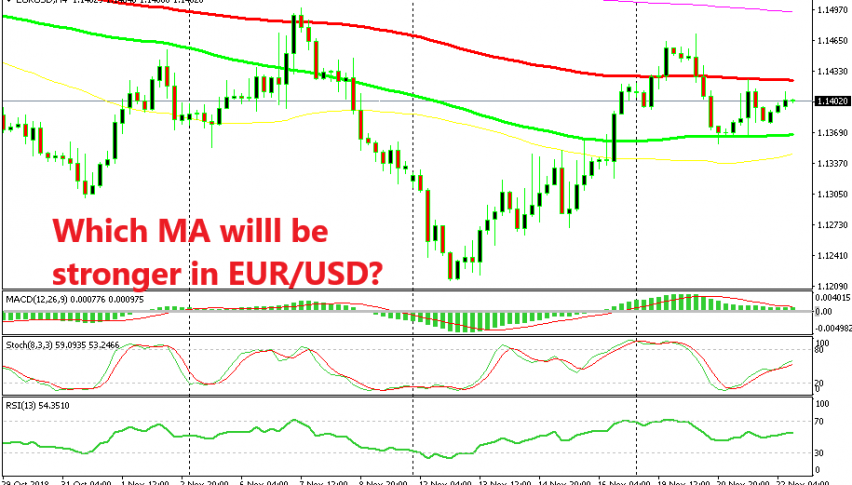 EUR/USD Bouncing Between Two Moving Averages
Yesterday, we opened a sell forex signal in EUR/USD. This pair was having trouble at the 50 SMA (yellow) on the upside in the H1 chart. That moving average was standing pretty much at the same place as the 100 SMA (red) on the H4 chart, so it was a double trouble for the buyers.
They eventually gave up and this pair reversed lower during the US session. The price got close to our take profit target by just one pip, but it wasn't meant to be for our signal. EUR/USD found it difficult to break below 1.1380 and, after several attempts to push below it, the price reversed back up.
The reason for the failure to push below 1.1380 was the 100 simple MA (green). This moving average is standing at that area. The 100 SMA (green) has been providing resistance previously if you scroll back your chart and it has now turned into support.
EUR/USD bounced off of it yesterday and it is now heading back up. Although, I think that it will still have trouble moving above the 100 smooth MA (red) which still stands above at 1.1420s. The climb is pretty slow which shows that the buyers are just barely in control.
According to the price action, I think that we will see another bearish reversal soon, so we are holding on to our signal on this pair.
The USD is looking softer today after the unemployment claims showed a jump to the highest since October 2021 last week
1 day ago