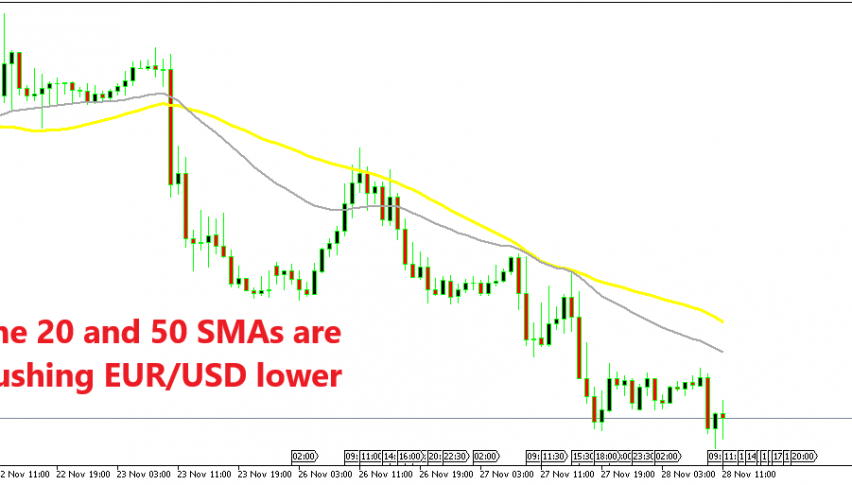 EUR/USD Can't Get Itself Together this Week
Posted Wednesday, November 28, 2018 by
Skerdian Meta
• 1 min read
EUR/USD and GBP/USD have been on a bearish trend this week as they break some decent support levels. EUR/USD broke below the 1.13 level again yesterday after having climbed above it last week. You could argue that this is a move away from risk assets, but the Kiwi and the Aussie have been holding on pretty well this week, if not been bullish, so it is not that.
On the other hand the JPY is being sold aggressively this week as USD/JPY has climbed more than 100 pips his week. Gold has also turned bearish. Only today it has lost more than $10, so this is not a run for safe havens either.
Yesterday, we heard news from some German institute that the US tariffs on European cars might come as soon as December this year. The market was expecting them sometime next spring probably and the European Central Bank was hoping never.
But, it seems that the tariffs are coming and the Euro is not feeling so well. The situation with the Italian deficit for next year's budget is also being resolved as Italians agree on a lower deficit, so it should be about the car tariffs, right?
This makes things harder for the ECB and it seems increasingly unlikely now that the ECB hikes interest rates next summer or next September. Some have argued that the Euro could be turning bullish next year, but I don't see that coming and the price action of the last few months is showing otherwise.
The USD is looking softer today after the unemployment claims showed a jump to the highest since October 2021 last week
9 hours ago
USD/CAD continues to slide lower, although it stalled to the bottom of the range earlier, after the dive on the 25 bps hike by the BOC
1 day ago