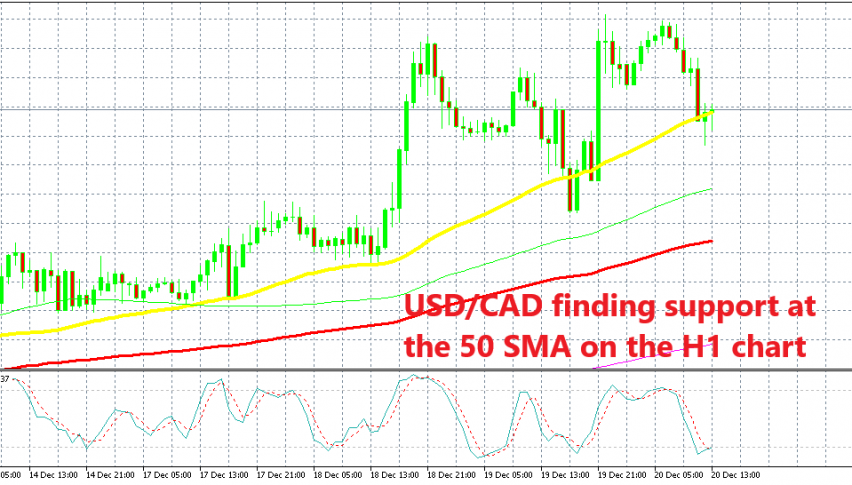 Buying the Pullback in USD/CAD
USD/CAD has been on an uptrend the entire year, but in the last three months, the uptrend has picked up pace and has turned into a pretty straightforward and geometric bullish move. The reason for this is the decline in Oil prices since early October which has hurt the Canadian Dollar. That is one of the main reasons for going long on USD/CAD as we opened a buy forex signal a while ago if you follow our signals.
Oil prices were trading in a range for a couple of weeks after OPEC+ decided to cut the Oil output in their last meeting, but this week Oil prices have resumed their bearish trend again. US WTI crude Oil has slipped below the $50 level again while UK Brent crude has broken the support area around the $58 level.
So that, as well as the softening economy in Canada has turned the CAD even softer this week and we are trying to get some pips out of all this. We bought this pair at the 50 SMA after the previous candlestick formed a hammer which is a reversing signal after the bearish retrace lower.
The 100 SMA (red) is a better place, but the 50 SMA has also provided support before. Besides, the retrace lower seems complete now as stochastic is oversold on an bullish trend. The only problem for this trade is that the USD is in a weak phase right now as the market has come to the conclusion today that the FED was dovish today.
To me, the FED sounded more hawkish than the market was expecting before the meeting than dovish. Anyway, this is the trade we just took and we hope that the bullish trend resumes again soon.
USD/CAD continues to slide lower, although it stalled to the bottom of the range earlier, after the dive on the 25 bps hike by the BOC
2 days ago
Crude Oil has been bearish for more than a year, but this week we saw a decent reversal higher on higher Caixin manufacturing
6 days ago