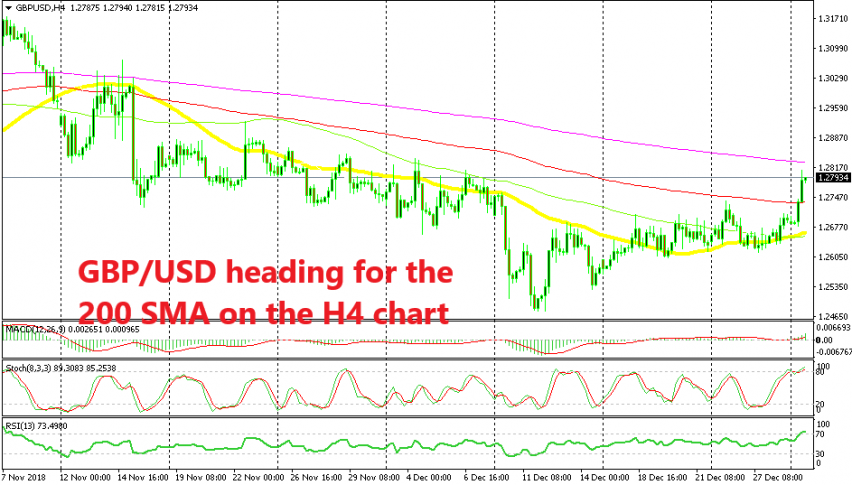 GBP/USD Surges Higher On Thin Markets
GBP/USD traded in a tight range last week worth around 100 pips which is pretty tight for this pair. It was finding resistance at the 100 SMA (red) on the H4 chart while the 50 SMA (yellow) was providing support on the downside. The 50 SMA turned into support for two weeks from resistance after being broken the week before that.
The move today is already bigger than the entire move last week. It started surging higher when the UK/European markets opened this morning and it has been climbing higher since then. The range so far from the bottom to the top is more than 130 pips.
The buyers have taken out the 100 SMA (red) already and seems like they are heading for the 200 SMA which comes at 1.2830. There is no fundamental reason for this move besides that fact that the market has been massively short on the GBP, particularly in the last several weeks as the British Parliament refused Theresa May's Brexit deal with the EU before it went to the Parliament, so May had to go back to the EU and bargain for some changes to the deal.
I suppose, forex traders are unwinding some of their short GBP trades today before the New Year. It could also be cash flows coming to the UK for companies to restore their balance sheets before 2019, but it is too late for that and most major businesses are closed today. Although, this could be a good opportunity to go short with the bigger trend, so if we reach the 200 SMA (purple) today, then I might be persuaded to go short. Otherwise, this trade will have to be postponed for next week.