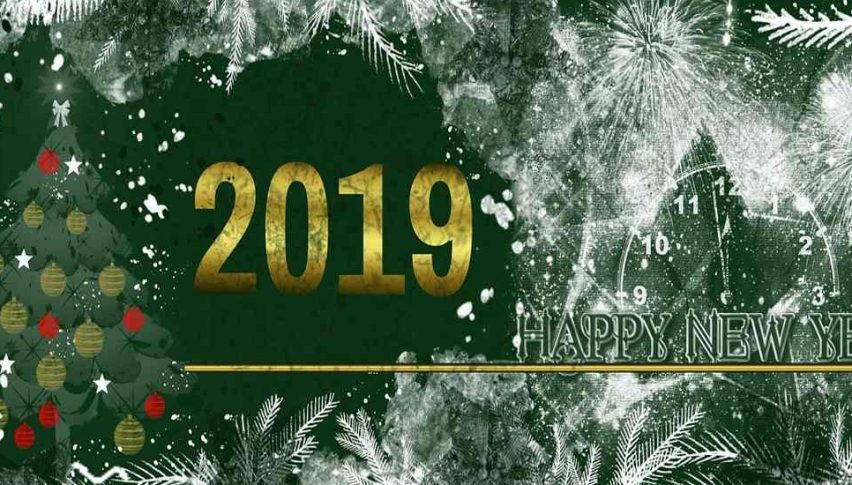 Happy New Year! 2019 Outlook For The USD/CAD
With only a few hours left in the U.S. financial year, the American indices are in position to close trade on a high note. Forex action is muted, featuring tight daily ranges across the majors. At press time, it appears that most liquidity providers have already hit the road or are preparing to put the finishing touches on 2018.
From a macro perspective, the markets were alive in 2018. Volatility hit U.S. stocks, oil, and agricultural commodities hard as geopolitics ruled the day. We entered truly uncharted waters featuring trade wars, a crypto-collapse, and political strife driving market participation to new heights.
One lesson that I have learned over the past year is this: anything is possible. The markets are ever-evolving, as is the world around us. A U.S./North Korea Summit? A no-deal Brexit? A prolonged U.S./China trade war? All of these events appeared improbable last New Year's Eve ― now, each has its own place in the history books.
So, what is on tap for the coming year? Check out my weekend update for a few ideas on what 2019 may have in store.
The USD/CAD In 2019
The USD/CAD put in a tight 2018, trading within 2017's yearly range. The action was defined by a year-long grind north beginning last February. Following two major retracements in April and over the summer, October marked a 90-day bull run to close the year.
Overview: The crafting of USMCA, tightening FED policy, and a major sell-off in WTI crude oil were the primary drivers of the Greenback's appreciation against the Loonie. Here are a few observations facing the USD/CAD for the coming year:
A breakout from 2017's range is sure to occur. The last time the USD/CAD had an inside year was 2012. Following 2012, the market went on a three-year bull run from par value (1.000) to highs above 1.4000.

The USD/CAD is best viewed as bullish until proven otherwise. In 2017 and 2018, rates rejected the 1.2000 level, just beneath the 38% retracement of the 2011-2016 rally. Until we see 1.2000 taken out with authority, the 5-year uptrend will remain valid.
Continued bullish action in this market is highly likely at least until the end of Q1 2019. However, if 2019 brings a dovish FED, rising energy pricing, and a U.S. Congressional rejection of USMCA, then the USD/CAD will be poised for a fall. Any way you slice it, 2019 is going to be a big year for the Loonie and the USD/CAD is an ideal instrument to target for the next 12 months.
From all of us at FX Leaders, have a great New Year's holiday and may all of your trades go green in 2019!